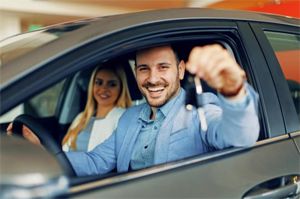 The modes of transportation you can choose from range all the way from small sub-compact cars to buses and even chauffeured limousines.
That being said, most people prefer to drive a car.
Automobiles play an important role in your daily life so it's important that you find one that suits your needs.
The first thing to keep in mind is that it's not just a means of transportation that gets you from point A to point B.
The right car can be the difference between coming home from work irritable and exhausted from a difficult ride home in traffic or whether you and your family can take a cost-effective road-trip this summer.
Because your vehicle can make such a big impact on your life, you'll want to pay attention to the details and be particular throughout the car-buying process.
Not sure how to find the perfect car for your lifestyle? There are many factors to consider when trying to decide what type of car you should buy:
1 – Do you walk most places or do you drive a lot?
If you have a long commute or make a lot of stops throughout your town picking up and dropping off your kids from school and sports, fuel economy is going to be important.
You'll also want to make sure your car is comfortable so it's probably worthwhile for you to get a model with a lot of upgrades like satellite radio, a good sound system, and plush seating.
If you can't find a car in your budget that has these features, you might want to invest in them later.
2 – Will you need to transport large items frequently?
Whether for your work or recreational purposes, trucks and SUVS are usually recommended for people who often transport equipment, furniture, and other items that won't fit in the back seat.
3 – Do you usually drive alone or with passengers?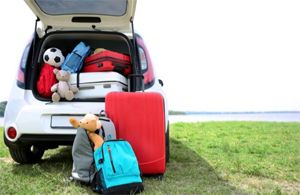 If you know you need a lot of space in your car, you would probably benefit from an SUV or van. But, if you're the only one usually in your car, you can opt for a sportier model.
In addition, the size of the car, the number of passengers can also affect whether you want a two-, three-, or four-door vehicle.
4 – Is your car likely to get messy?
Whether you're an athlete or have young children, you'll want to consider what type and what color fabric will be the easiest to maintain as far as stains and debris are considered.
You should probably also have a good car-washing service in mind to keep your new car clean and smelling good.
5 – Is safety a priority?
You should research the car's safety and crash test ratings if you are going to be driving children around.
Look into which vehicles that have five stars which is the highest safety rating awarded to vehicles by the National Highway Traffic Safety Administration.
You might also want to make sure the car has automatic emergency braking, lane departure warning, and other key safety features.
6 – What are you or your family's hobbies?
If you typically go to the beach to swim or surf on weekends, you're probably going to need more storage room in your vehicle. You might need all-wheel drive if you like to take road-trips to the desert for dirt-biking or the mountains for outdoor fun like rafting.
For towing boats or trailers, you'll also want to make sure your vehicle is properly equipped to handle it. However, if you usually travel by plane, get a smaller car and you can use that extra money for flights.
7 – What's your financial situation?
Unfortunately, money is an important aspect of the car-buying process. You don't want to find yourself overwhelmed by a car payment you can't afford a few months down the road.
Before purchasing a vehicle figure out what your budget is and whether you'll need a loan. Taking advantage of financial services can help make this an easy process.
Basically, finding the right car for you comes down to two factors: your priorities and your cost range.
This can help you narrow your options and figure out where to go to buy your car. Each dealer carries different inventory and prices their cars based on their own costs.
It could pay off to drive a few minutes, say from Glendale or Phoenix if you're living in Arizona, over to the Audi dealer near Peoria to get the exact model you want – color, features, and all.
Bottom line: Choosing the perfect car for your lifestyle can be a bit overwhelming, but the tips mentioned above can make that all-important task as lot easier!