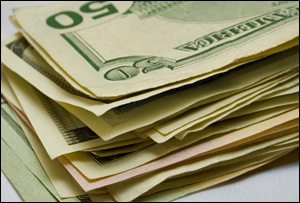 One of the best reasons to go green is to help save the environment.
With rising temperatures and growing landfills, everyone should do their part to reduce their carbon footprint for the benefit of the earth and every living thing on it.
Well, it turns out, going green not only helps save the planet – it can help you save some major green too!
Here are four ways you can go green today that will help you save money at the same time: 
1 – You Can Save Money When You Spend Money
Buying less stuff is a green strategy, but when you do have to fork over some cash, you can do your part to protect the environment, and save at the same time, by getting smart about how you spend it.
Skip writing a check, using an envelope, and sending it in the mail by sending money using a money transfer service, like Remitly. You'll save money on gas and ATM fees too!
2 – You'll Spend Less to Keep Your Home Comfortable
One of the biggest ways you can go green is to look for ways you can save without compromising your home's comfort. A few ideas include:
Programmable thermostats: When used properly, they can help you save as much as 10-percent on your heating and cooling bills.
Hang clothes to dry outside: Not only will you save money hanging your clothes outside, you can avoid increasing your home's temperature in the summer by not running the dryer.
Replace bulbs with LEDs: The latest light bulbs don't have to be replaced for years, so you will no longer have to spend money on bulbs every time you go to the grocery store.
3 – Save on Gas and Get to Work Another Way
Gas adds up fast. That doesn't even include the hundreds, or even thousands, of dollars it costs to maintain a vehicle. Instead of driving back and forth to work every day, look for a new way to get there.
Consider taking the bus, and you'll spend a lot less on your daily fare than gas for the week. If you live close, consider walking. Biking is also a great way to get to work, and it will help you burn calories and lose weight too!
4 – Get the Look You Want for Less
Although it's true that second-hand clothing can help you look great for less, that isn't the only way you can get the look you want. You can save tons of money by purchasing used furniture to make your home look great!
There's a lot to love about second hand furniture. You can get high-quality pieces for a lot less, not to mention, you'll be doing your part to keep it out of the landfill.
Don't think going green is a difficult process with little or no benefit to you and your family. It can be a lucrative investment in your future! With these four tips, you can save more money at the end of the month, while you save the planet for future generations.