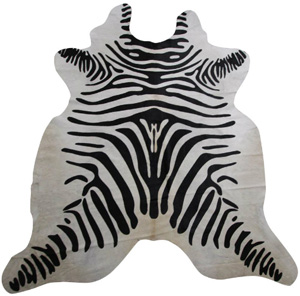 When you are choosing accessories for your home, you should consider rugs a form of art. Therefore, you'll want to select a rug that complements your decor  while retaining its own sense of individualism.
Zebra print cowhide rugs are an excellent choice of decorative accessory. They are durable and easy to clean. Those two features make them an appealing option in a house where an active family  lives. You can entertain with ease in a room that has a cowhide rug because if something is spilled, all you need is soap and water to clean the rug.
Most likely, when you think of a zebra print rug you visualize a white rug with black stripes. That particular color pattern is quite popular. It fits well  into a modern or contemporary decor. You might be surprised to discover that black and white is not your only color option.
You can display your individual  style and adventuresome flair for design by adding a tan/gold and white zebra rug to your decor. This color pattern brings an element of softness to the  room's atmosphere. It would be ideal for a bedroom where you want to create a serene atmosphere. The addition of gold accessories is one of the new, trendy
design ideas.
It is recommended that you move a cowhide rug around from time to time so that it wears evenly. You can take that recommendation a step farther and move  the rug from one room to another. That is an excellent way to give a room an entirely new appearance. This type of rug can easily transition from a modern  living room decor to an exotic bedroom retreat.
Placing a zebra cowhide rug on the floor is just one of many ways to incorporate it into your  decor. This type of rug makes a beautiful wall hanging. It can be used in any room of your house to create an eye-catching feature wall. You can elevate
the appearance of a coffee table, side table, ottoman or sofa table by draping a cowhide rug across it. This idea works for tables made of wood or glass top tables.
You can place one of these rugs across the bed to add some interest to your bedroom decor. If you have a chest or bench type seat in the bedroom, you could  place the rug across either of these. You can enhance your living room decor by placing a zebra print rug across an accent chair, a chaise or the sofa. The  banister on a balcony or the stair rail is a great place to display a zebra print cowhide rug. Take a look around your home and you are likely to discover  some unique and interesting ways to incorporate one of these exquisite rugs into your home decor.