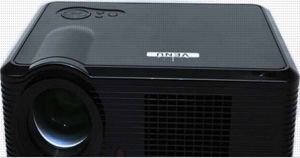 Today's world is filled with video and other media more than ever. From streaming online movies, to smart phones capturing everything, to multimedia presentations in school and business settings, the need to project these images in a high quality fashion is greater than ever.
The Venu XD 1070 Projector is the right tool for the job. It has the features to handle any home, business or school applications. The Venu Projector is easy to operate and is super portable. There are many reasons why the Venu XD-1070 is the best choice for all your multimedia viewing needs. 
When it comes to amazing picture quality, the Venu Projector XD-1070 delivers with a dual or quad 180 Watt LED lamp that can produce 4000 Lumens of brightness and a 15,000:1 contrast ratio. With typical use, this lamp can provide around 20,000 hours of stunning performance. All of this translates into an image from 40 inches to 200 inches with a resolution of 1920×1080 pixels that will jump off the screen for your viewing audience. The lamp is designed to boost the intensity of red colors, and blacks are brought to a new level with the addition of contrast plates to prevent light leakage. All of these features allow the Venu Projector to keep the images sharp throughout its screen size range, and even in situations where the room is not fully dark.
The Venu XD 1070 Projector is also very convenient and customizable. It is lightweight and portable. Its built in 5 Watt speakers make it easy to get the sound quality you need without having to lug around a separate sound system. The noise reduction on the fan reduces the Venu Projector noise down to 22 decibels making it easy to hear only what you are watching. The remote control makes it easy to do presentations while you are walking about the room. It also comes in handy when you want to stay in your favorite chair while watching a great movie. Its two HDMI slots with DeepColor and XV capability, and its two 12 volt triggers makes customization easy. You can turn your Venu XD-1070 into a high end entertainment system, or you can connect multiple ways for the most elaborate presentations.
The Venu XD-1070 Projector also comes with a viewing monitor allowing the user to tailor the numerous picture balance settings. The Venu Projector is ready to go out of the box with VGA, audio video and HDMI cables. Power cord, lens wipes and batteries for the remote will have you up and running in no time.
The quality of the Venu XD 1070 is checked and brought to meet or exceed both ISO 9001 and ISO 14001 standards. It also is subjected to earthquake, environmental and drop tests; and it is checked to make sure it is free of dust before it is shipped.
When you are looking to find a projector to fill all of your multimedia needs, look no further than the Venu XD 1070 Projector. The performance, quality and ease of use is unmatched in today's market.