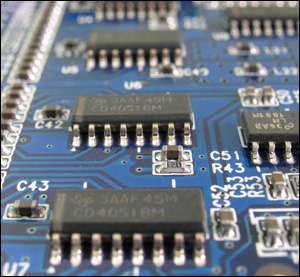 Electro Static Discharge or (ESD –  for short) occurs when two objects come into contact causing static electricity. This can be very damaging to electrical items, especially computer equipment.
Many parts of a computer are made from semiconductor material that is susceptible to damage from high voltages. Think of it a bit like the shock you feel when you walk across a rug and then touch a piece of metal or rub a balloon on piece of clothing.
Here are ten powerful tips to prevent the build-up of ESD and protect your equipment:
1 – Grab the Chassis – One of the easiest ways to protect yourself and your equipment is to hold on to the chassis of the computer tower or the power supply case.
2 – Stand Up – It has been proven that sitting down while working on a piece of equipment can actually generate more static electricity. Making sure your standing can prevent the build of static and will give you a better view of what you doing.
3 – Plugs and Cords – Make sure everything is unplugged. Residue static can be stored in mice, keyboards, towers and other devices. It is also a lot safer working on one item unhindered then battling round cords.
4 – Clothing – Now I am not suggesting you need to wear any sort of radioactive suit here. Just bear in mind that certain types of fabrics can cause a build-up of static, especially wool. Save the Aragon wool sweater for another day when you are not fixing computer equipment.
5 – Weather – Okay you say, I can control what I am wearing but I can't control what the weathers going to be like the day I'm replacing my motherboard. We don't expect you to. Just bear in mind if there is a storm, there is a going to be a fair amount of static flying around. Just try and avoid working on computer equipment unless absolutely necessary.
6 –  Accessories – It's best to keep jewelry and any fashion accessories to an absolute minimum.
7 – Anti-Static Bags – When you remove items such as memory chips, CPU's , external cards or motherboards, always, always!, store these items in anti-static bags. You can even buy anti-static bubble wrap. I tend to avoid these as I just want to pop the bubbles all day.
8 – Anti-Static Wrist Straps – If you really want to look the part then purchase an ESD wrist strap. These usually have a pair of crocodile clips on one end that attach to the chassis of your computer and a strap that attaches to your arm. This helps keep your grounded.
9 – Grounding Mats – This is usually is a mat that you place the laptop or computer you are working on . This helps dissipate the risk of ESD and looks really cool!
10 – Electrical Matting – For those working in offices. There are many ways to prevent ESD in the workplace. One of these is purchase electrical matting which is usually made out of rubber which can help to reduce the risk of electrical items and staff from the risk of injury
About the author: Neil Martin is a writer for www.electricalmatsdirect.co.uk.
Photo credit: Ovidiu Marian