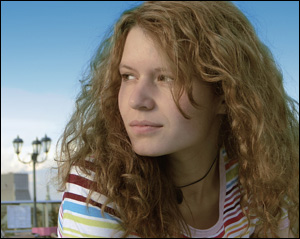 What one woman has another woman often covets. If you're born with straight hair you rush out to buy curling tongs, if born with curls, you try to reel them in with the latest set of hair straighteners. But what you really need to think about is working with what you have.
Naturally curly or wavy hair is simply gorgeous. A natural curl is better because straighteners have become so good that a natural look is achievable, whereas naturally straight hair is nigh on impossible to cut, burn and twist into a genuine looking curl. And it takes the average woman 40+ years to realize what an asset having curly hair really is.
Having said that, once in a while it is nice to shake things up and go out looking like a new woman. A new dress, suit or makeup can do it, but nothing feels quite as drastic as stepping out the front door with a brand new hairstyle and wowing your friends.
On these occasions the main danger is damaging your hair so much that it doesn't return to its original and beautiful wave. Let's face facts here ladies, hair straighteners DO damage hair. Of course they do! Hair has not evolved to be exposed to such high temperatures. That said, all is not lost, and please don't throw out your GHD's that cost you an arm and a leg if this scares you. There are ways to straighten hair safely, and ensure that your hair doesn't lose that natural flow.
First and foremost, don't overdo it! If you are constantly applying heat and treatments to your hair, no amount of aftercare, conditioners and shampoos will fix it. Treat your hair with respect. It's an organic material, and as such don't bombard it with chemicals and heat because it will react badly to it. Instead of going for that straight look every day, keep it to two or three times a month. Not only will this keep your hair healthy and happy, but will make those times you do straighten pop with a stronger impact.
Product is key. Again don't overdo it, but every time you use hair straighteners apply some heat protection. Giovanni's serum is a good product, and can be found here: www.giovannicosmetics.com. Other products will obviously work too, and it can often depend on your hair type which of these works for you. You must be willing to experiment!
Decent hair straighteners are always going to be recommended. And to be fair, the coating on the top end brands such as GHD will cause less friction and prevent damage, but the cheaper ranges won't obliterate your hair. They just won't straighten as easily or as effectively.
All in all, being pro-straighteners is absolutely fine. Don't live in fear of how they could damage your hair. After all, it's a luxury product that you deserve, but also don't be ashamed of your curls. When you hit the above 40 mark you'll wish you used them more!
About the author: Lisa Snow blogs on beauty for Marie Claire and culture. She lives in London with her husband and two children.
Photo credit: Yarik Mishin