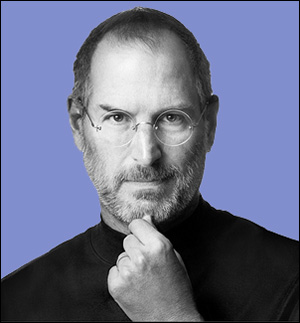 According to Wikipedia, an entrepreneur is defined as "an enterprising individual who builds capital through risk and/or innovation". Over the years, energetic, innovative and forward-thinking individuals have driven their companies from humble beginnings to global success.
Here are ten of the most influential and successful entrepreneurs in recent history:
1 – Steve Jobs (Apple)
Steve Jobs epitomized the modern entrepreneur. He led Apple into a market-leading position with products such as the iPad and iPhone. An unconventional soul, Steve Jobs' attitude was always one of arrogance. He was renowned for not conducting market research, once implying that it is the manufacturer who tells the consumer what they want, not the other way around.
2 – Bill Gates (Microsoft)
Bill Gates is among the few business people who can claim they have changed the world twice in a single lifetime. First there was the introduction of the personal computer. Second came global health and public education initiatives. Microsoft's founder is renowned for his attitude towards using small teams of smart people.
3 – Fred Smith (FedEx)
Fred Smith's defining moment could be his achievement in providing small companies with the business reach that was usually only achieved by larger companies. His business model puts emphasis on first-level managers to set an appropriate example. Fred Smith's leadership in the logistics sector was built on his time as a US marine, serving in Vietnam.
4 – Jeff Bezos (Amazon)
Unconcerned by the length of time it would take to turn a profit upon founding Amazon, Jeff Bezos was more focused on creating a long-lasting company that would prosper from sustained revenue streams and market dominance. Financial records show a six-year loss-making run before profits flooded in. Logistics personnel and accountants for contractors would have been forgiven for doubting Bezos during this period. The entrepreneur's ability to continue running a successful company is achieved by taking regular breaks from the business.
5 – Larry Page and Sergey Brin (Google)
Having created the most popular and successful internet search engine in history, Larry Page and Sergey Brin have succeeded due to their attitude that there should be no expense spared when it comes to innovation.
6 – Howard Schultz (Starbucks)
The success of Starbucks in recent years is down to Howard Schultz's financial discipline. By focusing on areas of profligacy, Starbucks was able to return to profitability after suffering a period of decline.
7 – Mark Zuckerberg (Facebook)
Facebook is now estimated to be worth between $75 billion and $100 billion. The amazing success of the social networking site is attributed to Mark Zuckerberg's paranoia and constant innovation in the way Facebook works. This has allowed it to stay ahead of the competition.
8 – Herb Kelleher (Southwest Airlines)
Renowned for its low airfares, Southwest is the largest domestic airline in the United States. The company's success is down to Herb Kelleher's insistence on low prices and high standard of customer service, achieved by putting his employees at the top of the company's priorities.
9 – Sam Walton (Wal-Mart)
Many would consider Sam Walton to be the most successful retailer in American history. He brought efficiency to the business sector that is often aspired to today. His business model included selling goods at the lowest possible price and ensuring that the customer was given what they wanted.
10 – Muhammad Yunus (Grameen Bank)
In 1983 Muhammad Yunus founded Grameen Bank, which helped pioneer the concept of micro credit. He helped hundreds of local people lift themselves out of poverty and inspired others to help with social causes around the world.
Our guest author today is Zoe who is writing on behalf of online accountancy specialists Brookson.
Photo credit: David Sanabria