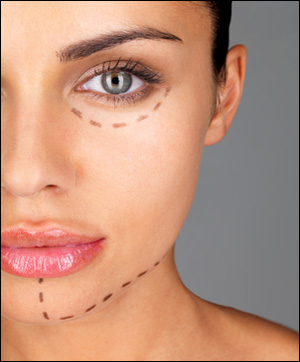 Many women and men are getting a facelift to restore their youthful look. However, although there are many benefits to getting a facelift such as removing the visible signs of aging, it is important to remember that getting a facelift is a medical procedure.
Before you decide to undergo any cosmetic surgery such as a facelift, you should consider these four important factors so that you make a wise decision that results in a successful facelift:
1 – Determine if you are a Good Candidate for a Facelift
There are a number of reasons why you may want to get a facelift. However, it is important to be realistic about what a facelift can actually do for you.
A facelift does not give you a totally new and different look. What it does is get rid of the features that show aging.
A facelift can smooth wrinkles and lines to make you look younger however it cannot make you feel more worthwhile as a person. It can promote an overall good feeling about yourself, but it is not a cure to low self-esteem and low self-confidence.
It is important to have a positive attitude but it is not beneficial to have unrealistic expectations such as expecting a facelift will completely change your life and who you are.
2 – Good Health and Well-Being
A good candidate for any cosmetic surgery, including a facelift is a candidate that has a positive and realistic attitude and also a person who is in good health. As with any surgery, there are more risks if you are not in good health. Also, if you are not in good health, it can slow recovery time. A good candidate for a facelift is one who eats healthy, takes measures to stay in shape, and does not smoke because smoking impedes circulation and slows healing.
3 – Choosing the Right Surgeon
Because a facelift is a surgery, like any other surgery, you need to do your research. It is important to select a surgeon that is board certified to perform cosmetic surgery. The surgeon should also be one who stays up-to-date on cosmetic surgery through continuing education. When researching cosmetic surgeons, check their history of successful results with performing facelifts, their experience, and their credentials.
The surgeon you choose should be skilled but realistic about what a facelift can do for you. As well, the surgeon should provide a thorough explanation of the procedure, detail the risks and benefits, and will make sure you are a good candidate for the surgery.
4 – What to Expect from a Facelift
When you decide to have a facelift, your first visit to the cosmetic surgeon will be a consultation about the following: your expectations and desired outcome, medical history, allergies to specific medications and drugs, medications you are currently taking, as well as your alcohol, drug, and tobacco use.
The doctor will likely measure your face, discuss your options, take photographs, determine a treatment plan, and explain how to prepare for the procedure. It is important to tell the doctor everything about your medical history to ensure you are a good candidate and to determine if there are certain precautions that need to be taken.
It is important to be aware that you will be under an anesthetic during the procedure and the doctor will have determined the best anesthesia before facelift surgery. The number and location of incisions will depend on the specific improvements you are having done such as soft tissue augmentation, facial implants, or filler to reduce wrinkles.
The surgeon may also reposition the tissue underneath, lift the underlying muscles, or sculpt fat from your face and neck. Once complete, the skin is put back in the right position, and the excess is removed. The surgeon will use stitches or surgical adhesive to close the incision.
As with any surgical procedure, it is important discuss potential risks and concerns with your surgeon such as pain, scarring, infection, numbness, etc, prior to the procedure. As well, like any surgery, there are no guarantees with a facelift. However, if you choose a qualified and experienced surgeon, prepare for the procedure, and look after yourself properly following the facelift, chances are you will be very satisfied with the outcome, particularly you will feel and look younger.
About the author: This article was provided by Toronto Cosmetic Clinic (5400 Yonge Street #110, North York, ON M2N 5R5 (416) 221-5554 ). For more information about facelift surgery or other cosmetic procedures, contact them to set up a free consultation.