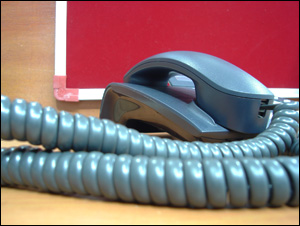 This is kind of an ironic question because the term "landline" is really so new.
Before cell phones became common, we would only hear the term on boats or in remote areas where people communicate via VHF radio. Because there was no privacy on the VHF, people would often say things, like, "I'll fill you in on the details when I get to a land line". Which, back then may have even meant a pay phone in the marina!
Now the term landline is more commonly used because every member of the family has a cell and the landline that just a few years ago was also used for dial up internet, is rarely if ever used.
The Text Generation
Children born in this decade may never see a landline. Teens now rarely speak to one another on the phone, instead they send on average over 3000 text messages a month. In fact, many plans allow for a certain amount of talking minutes each month and unlimited texts. My toddler has very little interest in talking to family members on the phone because she has been skyping since before she could sit up on her own.
She only knows the kind of communication where she can wave and blow kisses, send cyber hugs and carry the phone to her room to show you her new toys. When she was a baby we could only skype from my notebook computer, but now it is on my cell phone, and yes, hers! She actually has an old iPhone loaded up with baby games, music, Dora videos and of course, skype.
VOIP Systems
Many companies offer packages including high speed internet, television, and home phone. What you may not realize is that they are not really including a phone line, the way we have always thought of it.  They are including a service that uses VOIP (voice over internet protocol)  to make phone calls, the way skype does but with a regular handset.
Corporations who were formerly tied to landline systems because of their need to have a huge number of phones all connected to a central receptionist are now able to use VOIP. New systems have been developed like the Konnect Office Phone that allow small businesses to use VOIP with no need for a PBX, server, or hosted service. They can start with one phone and add new phones seamlessly, even in different locations and different countries!
Who Will Be Affected?
People who have given up their landlines have essentially become invisible to public opinion pollsters and political campaign staffers. Pollsters are legally only allowed to call landline telephones, and political campaign teams find their constituents in the white pages!
911 used to be a concern for those giving up their landlines. When you call 911 from a landline they immediately have your exact location. These days about 70% of all calls to 911 come in from cell phones, and it has always been harder for them to pinpoint a location. Recently the FCC made it mandatory that cell phone carriers provide much more accurate locations to Public Safety Answering Points. This allows 911 dispatchers to get emergency responders out quickly and to the right location.
About the author: Vanessa Jones is a cell phone professional and tech expert who works for Tru Phone. She is also an avid writer and enjoys giving advice to others on the ever-changing role of telephones in today's society.
Photo credit: Jayakumar Attoor