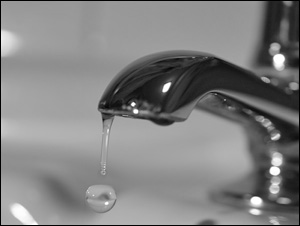 Low water pressure is one of the most annoying things that can occur in your home. There is nothing more frustrating than standing under a dribbling shower head or waiting an hour for the bath to fill up.
However, you don't have to put up with this problem as in the majority of cases it can be improved or completely resolved in a few simple steps. This may involve calling out the plumber, but it also may be something that you can fix yourself.
Here are the steps you should take if you want to increase your water pressure:
Step 1 – It may sound silly, but the first thing you should do if you have low water pressure is check that the valve connecting your home to the mains water supply is fully switched on. Often if work has been carried out in the home which involved turning off the mains water supply it can fail to be turned back on fully when the work is over, so make sure this isn't the problem you are having.
Step 2 – If your valve is fully switched on, the next thing that you can do yourself is take a look inside your taps to see if there is an obstruction. A small piece of grit in your tap head can have a significant effect on your water pressure so unscrew the handle of your tap and take a look in to see if there are any obstructions.
Step 3 – If this is not the problem the next thing you can do is check to see if you have limescale. Limescale can be a big problem for homes in hard water areas as the build up of chalky lime deposit in your pipes can restrict water flow. If you're not sure whether you live in a hard water area then check inside your kettle. If you see a chalky white deposit stuck to your filament you have limescale. This could also be affecting your shower head so make sure that when you embark on limescale removal treatment you include your shower head.
Step 4 – Try adjusting the water pressure reducing valve to allow more water to flow into your indoor plumbing system from the water main. This valve is shaped somewhat like a bell and it will have a screw extending out of the top of it. You will find it attached inline with the inbound water line near where it first enters your home. Just follow the pipe from the outside wall into the house until you find it. Watch this great Youtube video for simple and easy to follow instructions on adjusting your water pressure reducing valve.
Step 5 – Once you've been through all of these stages and haven't found a reason for the problem then it's time to employ the services of a plumber. They will use a water pressure test kit to check the pressure in your plumbing which should be able to pinpoint where the problem stems from. It could be something simple like a cracked or leaky pipe or something that will require a little more work such as overgrown tree roots obstructing pipe work.
Whatever the problem, a plumber should be able to find a solution so you can enjoy good water pressure in your home.
About the author: Jade Coleman is an interior designer and regular blogger about overcoming decorating disasters and household mishaps. Photo credit: Stephen Davies