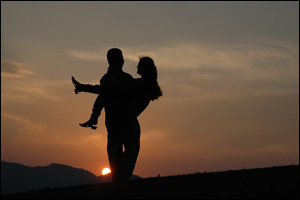 Every relationship goes through its lulls. Whether you've been together for five months or 50 years, there will always come a time where you seem distant. Rather than just wait for the phase to pass, invest in some of these tips to rekindle your relationship:
1 – Take a drive.
Sometimes getting away from it all for a few hours is all you need. Get in the car and just start driving, with no destination in mind. After an hour or two, pull over and find something fun to do, whether it's window shopping in a new town or eating at a dive restaurant. Not only will this give you and your partner some alone time to talk, it will also give you a unique and memorable experience. Just make sure to turn your cell phones off so there is no distractions.
2 – Give a no-reason gift.
Everyone likes gifts, so give your partner a gift for no reason. Whether it's something small or something big, it's the thought that counts. This will show that you are thinking about them even when special occasions aren't involved.
3 – Watch the sunset.
Find a quiet place that the two of you can sit and watch the sunset together. Watching the sun go down creates a romantic atmosphere, and it allows you to spend time catching up with one another.
4 – Do something spontaneous.
Rather than continue with your normal, everyday routine, spice things up by doing something spontaneous. Go out dancing, take the first flight out of town without being prepared – just do something you wouldn't normally do. It will give both of you a sense of excitement and help rekindle the romance.
5 – Leave love notes.
Maybe you can't find the right time to tell your significant other exactly how you feel, but that doesn't mean that you shouldn't. Write a love note to your partner and place it somewhere where they will find it. Not only is this gesture romantic in itself, but it will also allow you to remind your partner why you love them.
6 – Wear something sexy.
When you become comfortable with someone, you stop worrying about your appearance. Put your sweat pants back in the drawer and invest in something sexier. Put it on one night and do a little dance to pique his interest anew.
7 – Go on a real date.
Revisit the days when you were dating and actually go on a date. Whether you opt for dinner and a movie or something more creative, just make sure the entire night is spent focusing on one another.
8 – Renew your vows.
This is the ultimate way to rekindle your relationship. You are reclaiming your devotion to your partner, and you can do it alone or with a small group of loved ones, so there is no overhead pressure of a real wedding. If you write your own vows, it will be that much more romantic.
About the author: Barry Newman is a writer and marketing expert who works with the Palms hotel in Las Vegas. He likes to give advice and help to people on the internet.
Photo credit: Sundar Chinnusamy