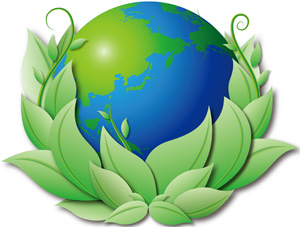 We've heard a great deal over the past several years about the benefits of "going green." Yet, while most of us know that this has something to do with helping the environment, just exactly does it mean to go green and why should someone consider it?
In its most basic sense, going green entails using more efficient ways of doing things that will ultimately result in saving energy as well as cutting down on harmful effects such as pollution in the environment.
Green Design Changes that Make Sense
Many design changes involve simple steps that can be done quickly, yet provide positive and environmentally friendly results. Some basic ways in which you can turn your home into a greener place to live include:
1 – Installing a Low Flow Shower Head
Even though these particular shower heads are categorized as low flow, many of the newer models still offer strong water pressure, while at the same time actually reducing the amount of water that is being used.
2 – Use a Hot Water Recirculation Pump on Your Water Heater
These types of pumps allow cold water to be re-circulated back to the water heater while only releasing water when it is hot. This will help to reduce wasted water while waiting for the cold to be heated up.
3 – Use Paints that are Labeled as Zero VOC
If you are considering a new coat of paint for your home, be sure that you use a more environmentally friendly type. Most brands of paint include various – and harmful – toxic volatile organic compounds, or VOCs, that can be released into the air when used. So, check at your local home improvement store for the safer brands to use – for both interior and exterior.
4 – Make Use of Recycled Building Materials
If you are planning a larger home improvement project such as the addition of a room, be sure to choose building materials that have been recycled such as reclaimed wood. In addition, by using more energy efficient insulation, your home will save a great deal of energy over time.
5 – Buy Safer Furnishings
For those who are in the market for new furniture, be sure to look for items that have been produced without using formaldehyde or glue. Although it may not seem like a big deal, this can truly improve the quality of air in your home.
6 – Purchase Energy Star Rated Appliances
If you are in need of new appliances, be sure to seek out those that possess the Energy Star label as these will help in conserving energy when they are in use.
Other Ways to Benefit Yourself and the Environment By Going Green
There are many easy ways to take on a more environmentally clean way of life – even by doing small, everyday tasks. Here are some ideas for going green at home:
1 – Take Shorter Showers
By reducing your water consumption to just a few minutes, you will be able to conserve on clean water. This also holds true for turning off a continuously running faucet when washing dishes as well as cutting back on the time that you run your sprinkler or hose outdoors.
2 – Turn Off Lights
When you leave a room, be sure to turn off the lights. On a related note, you may also consider unplugging appliances when they are not in use.
3 – Keep Interior Temperatures Moderate
Although it is more comfortable to run your furnace or air conditioner when the temperatures outside are extreme, even by trimming back by just a couple of degrees, you can help to save energy, as well as the cost of your energy bill.
4 – Recycle
For many years there has been a large focus on recycling – and it is even more important today as people and businesses continue to produce a great deal of waste. Recycling can be easy if you simply allocate particular bins for paper, glass, and aluminum.
5 – Perform Regular Maintenance on Major Systems
Making sure that major systems such as your furnace and water heater are in good working order, you can help to conserve energy as these appliances won't have to work so hard.
Green Living at Work
While taking on more green activities at home, there are also ways to do so at work. Some easy ways for those in an office or other work setting to reduce waste and become more green-oriented can include:
1 – Reduce Certain Inventory
By keeping supplies inventory down, your company can cut back on unneeded items that must be produced, shipped, and stored.
2 – Recycle
Just as when you are at home, businesses should also place a key focus on recycling. In fact, by purchasing and using recycled items such as paper, companies can help in keeping down the emissions of carbon dioxide and other types of greenhouse gasses.
3 – Take the Stairs
By taking the stairs instead of the elevator, you will not only help to conserve energy, but the exercise will also help you to reap certain health benefits as well.
About the author: Kelli McDonald is a home improvement and interior design blogger. When not holding a paintbrush or gardening outside, she does her best to work in her home office writing for LuxeYard.