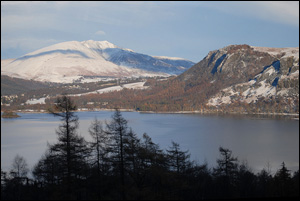 Derwentwater is known as the "Jewel of the Lake District", and it's not hard to see why.
In a region bursting with beauty, the countryside around arguably the most picturesque of the English Lakes is a hiker's dream – not to mention a paradise for wildlife lovers, photographers, and anyone who appreciates the great outdoors.
Names like Walla Crag and Lady's Rake form part of the landscape in a series of volcanic rocks that make up the "Jaws of Borrowdale", from where tracts of woodland and patchwork fields roll out to the skyline as far as the eye can see.
This is serious walking country, and once sea level is left behind the visual rewards are stunning, with – on a clear day – views across to the Solway Firth and Galloway Hills in neighboring Scotland.
Steeped in Legend
Lady's Rake is a narrow passageway in the rugged face of Walla Crag, and is steeped in legend. It is said that the Countess of Derwent Water travelled from her home on one of the lake's islands to flee the enemy after her husband was caught aiding the Jacobite rebellion in 1715…and made her escape via the cleft in the hills that became known as Lady's Rake in her honor.
Options for making the most of this glorious terrain are endless…but here's one of the very best and least taxing of walks.
A relatively easy seven kilometer ramble rises from Borrowdale to the summit of Walla Crag, dropping down past Lady's Rake to Ashness Bridge, where for decades walkers have stopped for a photo opportunity with Derwentwater and Skiddaw, England's fourth highest mountain, as a backdrop.
Fields and Woodland
The route begins at the Great Wood car park, rising steadily through woodland and fields with views over Keswick and Bassenthwaite Lake, and passing the deep valley of Brockle Beck.
Once you've conquered the cairn of Walla Crag it's all downhill through picturesque moorland back to the starting point; the whole walk should be accomplished in around two hours.
The Lake District has something for everybody, from towns and villages packed with ancient buildings, charming coffee shops and tempting pubs and restaurants, to wild landscapes that are simply crying out to be explored.
Serious hiking enthusiasts should consult Alfred Wainwright's legendary walking guides to the area, with detailed maps and sketches of the entire Lake District. In a series of notebooks that have been published time and again since he strode these very hills and valleys from the 1930s right up to his death 21 years ago, his vivid descriptions are as valid today as they were when they were written.
About the author: Lakeland lover Nicki Williams is a content writer for Gear-Zone, where any serious walker and hiking enthusiast will find all the major outdoor footwear brands including Brasher, Scarpa, Meindl, Merrell, Jack Wolfskin and The North Face.
Photo credit: Tim Dobson