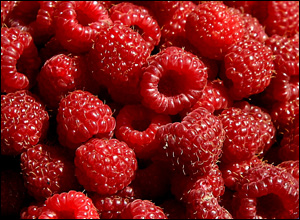 Your immune system is your body's defense against anything that can destroy it, whether it's a virus, bacterium, fungus, or parasite. You need to keep your immune system working and well-maintained, or you could end up getting sick over and over again.
Many of our bad habits can wear out our immune system. For instance, if you neglect to eat a lot of vitamin-rich fruits and vegetables, then you could end up shortchanging your immune system.
If you lack sleep, go to bed late, or have a less-than-refreshing date with your dreams, then you could also deprive your immune system the chance to regenerate. If you have a stressful life, say, because of a lot of work or school demands, then you could also tax your immune system.
You will need to exercise regularly, drink a lot of water, and stay away from stress in order to get your immune system up, running, and maintained. But you also need to change your diet. You need to eat a lot of fresh fruits and vegetables. One such fruit is the raspberry.
You might have heard it dozens of times: eat your green, leafy vegetables, and eat richly-colored fruits. These reminders exist for a reason: leafy vegetables are rich in vitamins and minerals, which your cells need for nutrition. Richly-colored, fresh fruits are rich in antioxidants, which can help you flush out toxins from your body.
So why are raspberries so important?
For one, they are a rich source of Vitamin C. Your immune system needs high amounts of Vitamin C, a.k.a. ascorbic acid, in order to function. If you are sick, Vitamin C is a great way for you to help your immune system out. Eat some raspberries every morning. Instead of overloading on the cold meds, have some fresh raspberries, too.
Vitamin C is also important to cell regeneration. Every few months or days, depending on your cells, your body gets rid of old cells and generates new ones. You will not feel it, but it's your body's way of having a new you every so often. Vitamin C is consequential to this activity. Vitamin C even helps build your skin cells!
Raspberries are high in anti-oxidants. There's a reason why raspberries are so richly red. They have antioxidants that can help flush out dangerous free radicals from your body. Free radicals, which can arise as the effects of being exposed to pollution and a poor diet, can damage your cells irreversibly. Anti-oxidants, such as those present in raspberries, can help you take out these damaging free radicals.
Finally, raspberries are high in B-complex vitamins, which fuel your immune system. You need B-complex vitamins for a faster immune response, as well as for general upkeep of your immune system.
So try a handful of raspberries today and see how they can keep your immune system strong and running. You need your immune system to protect you day in and day out, so do it a favor and give it some help.
About the author: Alex Vandyke is a fitness writer and student. He loves raspberries! Check out his new information site on raspberry ketones – raspberrysupplementguide.com.
Photo credit: Magda S.