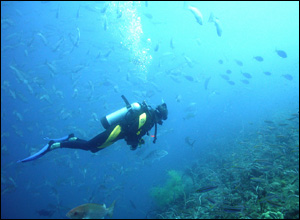 Sailing and scuba diving go together like fish and chips. The chances are, if you're enamored enough with all things aqua to go on a boating vacation, you'll be tempted to slip beneath the surface and explore.
But where to go? The vastness of the ocean makes this a brain-tickling decision and divers are notoriously slow to divulge their secrets. The last thing they want is to come face to face with another snorkeler when they want to come face to face with a great white.
Not so Jacques Cousteau. June 25th marks 15 years since the death of the marine biologist, intrepid explorer, filmmaker, conservationist and author. He wanted to share his infatuation with the sea so much that he made 120 documentaries about it.
Who better to take diving advice from, than the man who invented the Aqualung, who won an Oscar for his marine documentary The Silent World, and who spent his life exploring the ocean? Here's our pick of his 5 favorite diving spots, which happily also double as incredible sailing destinations:
1 – Blue Hole, Belize
The Blue Hole was made famous by Jacques who sailed the Calypso there, and he is thought to be the first to dive it. He then added it to his top ten list of best diving spots. The Blue Hole is a 'karst-eroded sinkhole'- essentially, it used to be a tunnel and its roof collapsed. The hole is about 1312 ft wide and 475 ft deep, but you won't see much marine life. However, it's situated smack bang in the middle of the Lighthouse Reef system, a destination equally popular with boat charters and diving expeditions. It is the second longest barrier reef in the world, running for 186 miles along the coast of Belize.
What You'll See:
You may spot bulls sharks, hammerhead sharks and blacktip tiger sharks in the Blue Hole. In the reef, you'll see dolphins, sea turtles, barracuda, eagle rays, sting rays, seahorses, parrot fish, nurse sharks, endangered groupers, the occasional manatee and whale sharks, the largest fish in the world.
2 – Sipadan, Borneo
In 1988, Jacques announced he had found paradise on Sipadan, calling it an 'untouched piece of art'. Sipadan is a little coral island around 20 miles from Borneo, and one of the most famous diving sites in the world thanks to its amazingly diverse marine habitat where more than 3000 types of fish have been spotted. Another attraction for divers is the turtle tomb which is an underground cave with a maze of tunnels, filled with the skeletons of turtles that got lost.
What You'll See:
hawksbill and green turtles, big eye trevally, bumphead parrotfish, manta rays, eagle rays, hammerhead sharks and whale sharks
3 – Poor Knight's Islands, New Zealand
The Poor Knight's Islands are a group of idyllic uninhabited islands off New Zealand's North Island. Thanks to a micro-climate and the convergence of warm water currents, Poor Knight's Islands are home to an incredible variety of marine life not found closer to New Zealand. The islands themselves are a Nature Reserve and landing on them is forbidden, but sailing in the marine reserve is allowed. Temporarily change your boat for a kayak to explore the myriad of caves and arches, including one of the world's largest sea caves.
What You'll See:
black grouper, Lord Howe coralfish, mosaic moray, turtles, manta rays, golden snappers, blue maomao, porcupine fish, kingfish, blue moki and butterfly perch, to name but a few
4 – Isla del Coco, Costa Rica
Described by Jacques in 1994 as 'the most beautiful island in the world', Cocos Island is located on the Pacific side of Costa Rica. It is uninhabited, a national park and a UNESCO World Heritage site. The world's largest school of hammerhead sharks in the world are consistently spotted here, and it is also home to over 300 species of fish, 60 species of crustaceans and more than 30 species of coral. What's more, it is known as a top sailing destination due to its moderate year-round climate. Closer to shore, the Gulf of Papagayo is a popular choice for boating holidays, with its dry climate and steady winds.
What You'll See:
hammerheads, rays, dolphins, giant mantas, whitetip reef sharks, humpback whales, pilot whales, sea lions, hawksbill and green turtles, yellowfin tuna, and the whale shark
5 – Richelieu Rock, Phuket, Thailand
Paradise doesn't get any prettier than the Similan Islands, which lie north-west of Phuket. Of particular interest to Jacques, however, was Richelieu Rock, a submerged rock which is part of the Surin National Marine Park. It is known as one of the best places in the world to swim with the shy whale shark, with some divers reporting sightings on 50-70% of dives- way above the average. Boaters must be vigilant as the rock is only visible when the tide is extremely low, but apart from that note of caution, this area of the Andaman Sea has great sailing conditions all-year round.
What You'll See:
octopuses, devil and manta rays, tigertail seahorses, frogfish, lionfish, ghostpipe fish, cuttlefish, and the tomato clownfish, which is native to Richelieu Rock only
About the author: Laura is a diving fanatic who spends hours pouring over information on dive sites and boat charters to plan the perfect vacation.
Photo credit: Rick Hawkins