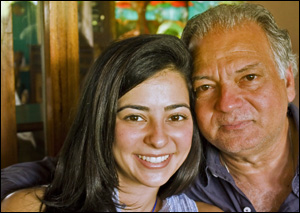 There are many things in life that can be free, and making memories with your dad is one of them. Memories are one of those things that can comfort people and make them happy, sad, angry, joyful and many more things.
Creating happy memories for your dad on Father's Day can take a little more effort than the run of the mill bought in a store gift, but the extra effort is definitely worth it.
Haruki Murakami once told us that Memories are what warm you up from the inside. But they're also what tear you apart. How true that is.
John Green spoke about 'Paper Towns' – 'The town was paper, but the memories were not.' Also true. Memories with your dad can be solid or ethereal. A few ideas are outlined below to help you create your own memories with your father on his day, and some of the other 364 days of the year.
A Digital Video or Still Camera
Give your dad an easy to use and simple to maintain camera and show him how to take photos if he's not used to these types of record keepers. He can download onto his computer, use photo manipulating software and create either online photo albums to be posted for friends and family, have the same albums printed, or make his own. You can help him compose shots and make mini-movies as well.
Record A Memoir or Book or Stories About His Family
You can purchase a digital recorder for your dad and show him how to download to his computer, or even record on the computer itself if dad can round up all of the family. If you purchase an Internet camera for your dad he can chat with overseas or far-flung family members and make memories that way.
Take Your Dad to An Event
Theatre
Concert
Sports game
Retirement party
A day at the lake or on the river
Visit a museum or art gallery
Take a trip together
Have lunch together
And many more things…
Shop For Favorite Collectibles
Your dad may remember the 'old days' more than the new ones. You can shop for a few of his favorite collectibles, or buy one for Father's Day. Perhaps it's a gift you've spotted together while rummaging through antique shops or online or in a retail store. Go back later and wrap it up and give it to dad on Father's Day.  Perhaps your dad was in a band during WWII or The Korean War. Some fathers have fond memories of the military and the men and women they met there. Did he play the clarinet or saxophone? Maybe he's spotted one of those fine instruments and would love to try playing it again. Music is a great way to bring back old, and as well as making new memories.
Give Dad A Music Player For Father's Day
Listening to music can both stimulate old memories and create new ones, just like playing an instrument can. Music activates different areas of our brains. One way to enjoy music is on a retro music player that you can download iTunes onto. It looks just like one of those gorgeous Wurlitzer jukeboxes. These Crosley jukeboxesoffer a great way to listen to all kinds of music, no matter what type is your dad's favorite.
Take Your Dad To Lunch
If he was born in another country then taking your father to a restaurant featuring that type of ethnic food is a great way to stimulate your dad's memory. Perhaps he just visited the country on a trip with your mother and this lunch will help him to remember those happy times. Perhaps he loves Italian or Greek or Mexican food. If you are a good cook or a chef, you can also make your own lunch and talk to your dad while you are cooking!  There are many, many ways to make lasting memories with your father.
About the author: Mike Kelley is the owner of the website MensHideaway.com. His brainstorm came to him after his wife insisted that he have his own space in their home. This allowed him, and his wife, time to relax and adjust both together, and separately, after he was away at work for weeks at a time. Kelley's hideaway is comfortably set up with a wide-screen TV and stereo system. He is surrounded by his own personal items, like Celtics and Red Sox memorabilia. He loves collecting a few retro items and is a sucker for classics like a PacMan arcade machine.
Photo credit: Hector Landaeta