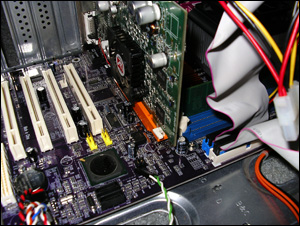 We live in an age where most people already use a computer on a daily basis – no arguments there, right? The problem is that only a fraction of these users know how to fix hardware issues without calling for a technician. That's too bad, since there are many hardware issues that aren't that complicated to handle by anyone. No worries though…
This article lists six common computer problems, and their respective solutions. Hopefully you will find this information useful!
Problem 1: PC Freezes
The primary reason why most computers sometimes freeze is the build-up of heat. The temperature inside the PC is controlled by the built-in fan(s) and you can control overheating by removing dust from around the internal fan.
Problem 2: USB Camera Fails
Many times the USB camera will not be recognized by your PC. The solution involves checking the menu in the camera to ensure that configuration is properly done for USB mode. Also endure that the camera is turned on before it is plugged in.
Problem 3: Unusual Colors in Monitor
Sometimes you may have seen very unusual colors in your PC monitor. You can do a few things to solve this problem:
Ensure that the VGA cable for your monitor remains properly secured to computer's video connector.
In case base for video card is screw type then you need to ensure that screws & pins are aligned correctly.
Lastly, remove VGA cable when the computer is turned off and then reconnect it. After it is fitted correctly you can turn on your computer.
Problem 4: Mouse that Jumps
A common problem for many of us is a jumpy mouse, and the main reason for it is accumulation of dust particles inside the mouse. If you have a "ball" type of computer mouse, open and turn it over, then remove the ball & blow off the extra dust out of it. If it is an optical mouse then just clean the optical sensor.
Problem 5: Noisy Computer
Sometimes a computer makes a lot of noise, causing plenty of distraction in the room where it is set up. This also causes concern that something might be wrong with the computer. Some of the main reasons for strange noises are:
Loose case causing vibrations resulting in development of noise.
An overworked hard disk can also result in creation of noise.
You can take steps to secure all the loose sections as well as optimize performance of the hard disk so that it is not overworked. You'll be surprised with the difference it can make in terms of noise reduction!
Problem 6: System Error Blue Screen
Often it is seen that a blue screen appears suddenly while you are working or when you start your computer. This is usually due to either a hardware failure or a driver problem. Reinstalling the driver or correcting the hardware problem can help to solve the issue. If nothing seems to work, you should consider backing up and re-formatting your Hard Drive, then reinstalling your operating system.
A Final Note
In conclusion, we can say that having proper knowledge of computer problems can help you solve them correctly and improve performance of your computer. Remember this simple advice – you'll be happy you did, next time your computer is acting up!
About the author: This article was provided by Computer too Slow, a website where you can find all kinds of computer related advice.
Photo credit: Saejinn