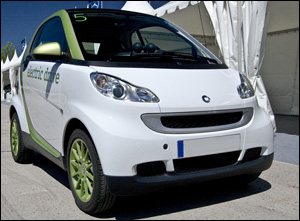 With dramatically increasing gas prices, fear of oil shortages, and mounting pressure to go green and protect the environment, there is becoming a greater push to develop and use electric cars. But are electric vehicles the answer? Or are they just a step in the right direction?
Whether you are environmentally conscious, looking for sustainable transportation, or simply wanting to keep up on the latest auto trends, read on to learn what you need to know about the direction electric vehicles are taking.
Perhaps the most obvious reason in favor of the electric car is the reduction of pollution. Because the electric car runs on a battery rather than gas, it does not put the same waste into the environment. The process of obtaining oil and using it for vehicles is damaging to the environment, and there are increased conflicts over the potential shortages of oil. Electric vehicles can reduce, if not eliminate, these problems.
Electric vehicles do not have tailpipe emissions, which is a significant way to reduce pollution. By running on battery, electric cars do not produce emissions. Additionally, electric cars reduce noise pollution. It is not obvious when an electric vehicle is running- most are nearly silent. Imagine a busy road in a city, free of any noise from the vehicles. Electric vehicles also offer a very smooth ride. Some electric vehicles eliminate the need for shifting, which allows smoother acceleration and braking.
Electric vehicles are also very reliable. These cars have between one and five moving parts, which is significant in that this makes it a vehicle in which fewer things can "go wrong". If these few moving parts break or are not working properly, it is much easier and less expensive to replace than a possible multitude of items. Compare this with a gas car, in which the internal combustion engine has hundreds of moving parts, and it is easy to see why an electric vehicle might be considered more reliable.
An electric vehicle can generally an acceptable distance on a single charge, and this will be improving. The electric vehicles need only to pull into a charging station or power unit to recharge. With electricity being cheaper than gas, an electric vehicle is a sound investment.
Electric vehicles are very safe, in part due to their increased weight. In general, a heavier vehicle is safer than a lighter one. This means that passengers in an electric vehicle may be safer than in a gas car.
As with all technology, the technology behind the electric car can do to improve in some aspects. In order to see electric cars on every street, some things must change.
Charging stations will be established on roads everywhere- perhaps as a part of gas stations, or maybe rendering them obsolete. Charging stations are more discreet than gas stations, and easier to place on streets.
The batteries themselves need to be improved to an extent too. There is the potential to make them longer lasting and less expensive, although they are still very powerful and certainly filling the gap between gas cars and the future sustainable vehicles.
There will also need to be better methods to dispose of these batteries when they need to be replaced. This is a work in progress, with more ways to dispose of the batteries with less damage to the environment being developed. However, this should not deter you from electric vehicles. This is just an indicator of the improvements we may see in the future. The electric vehicles we have now are efficient and effective.
Another motivation for those looking into purchasing an electric vehicle is the relative rarity of these vehicles at present time. Right now, an electric car is very unique. A discerning collector of cars, or just someone interested in staying ahead of vehicular trends, should take interest in the current novelty of an electric vehicle. These vehicles are aesthetically pleasing, and generally look sleek, somewhat futuristic, and unique.
Electric vehicles as we know them now are reliable, environmentally friendly, and attractive. While the technology is not necessarily perfect at present day, the potential for future development is phenomenal. The current electric vehicles are building towards even greater cars, but should not be looked over as a desirable vehicle.
About the author: Charlie Oszvald is a writer for Rolec Services, one of the industry leaders in manufacturing, designing and installing both indoor and outdoor electrical connections, distribution equipment and hook-ups.
Photo credit: David Villarreal Fernández