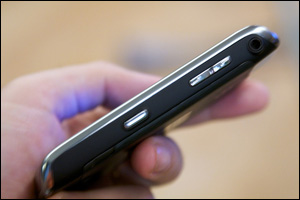 Smartphones have taken off like gangbusters in the last few years. What else offers you the ability to talk, text, tweet, update your status, check your bank details and browse the web, all while you're shopping?
You can do virtually anything on a Smartphone. But that is where the problem of security comes in – we need to be clever about not only the handset getting stolen itself, but what's on the handset getting stolen as well.
Here are five simple tips on how to make sure you stay safe with your phone:
1 – Physical security
Make sure you're still following all those pernickety rules your mum lectured you with when you got your first phone all those years ago.
Don't walk though a dodgy area flashing your phone around. Don't think you're making yourself safer by talking on the phone as you walk home after dark, because you're not. Keep your phone in a different pocket to your other valuables – if the worst comes to the worst and your bag/wallet is taken, at least you'll have a method of calling the police – but put your safety ahead of your phones. If you go out drinking, put your phone in a zip pocket, or give it to a teetotal friend – if it's away then it's more difficult to lose or get nicked.
2 – Use your Smartphones built-in security
Make sure you're using all the basic security measures on your phone. Set a password/PIN to get into your phone, and use something unique – no "1234"s or "password" passwords, please. If your phone has face or fingerprint identification software, use it.
3 – Who can see your screen?
It's fab that we can check our bank accounts on our phones now, but just watch out for who's looking over your shoulder. The best thing to do is only ever use your banking app to check your account before and after a shopping trip, when you're in a safe place like your (locked) car, or at home.
Also, make sure you never, ever, EVER save your login details on your phone – whether that's using the "remember my login" option, or saving it as a draft message (yes, we know about that). If you're phone disappears, so can all the money in your account.
The same applies to buying things online – don't do it when you're in public, as you never know who can see you entering your bank details.
4 – Who can hear you?
If you're the kind of person who still likes to do their banking over the phone, make sure you're alone when you do this, and in a safe place. Even though banks have increased over-the phone security measures such as two-or-more-factor identification, it doesn't mean the person sitting behind you on the bus won't work out what you're doing and which questions you're answering.
Similarly, NEVER give out passwords over the phone, and don't hand out too much of your life story to passers by – identity fraud is a huge issue.
5 – Treat your phone like your computer.
Remember that your smartphone is a mini computer, and viruses and malware can affect your phone just as they can your PC.
Make sure you don't open dodgy emails, even if they're from someone you know. Don't visit any websites you don't know the URL of, or download any files you're not sure about. Don't download any strange looking apps, only download from dedicated app stores, and always read the reviews beforehand to find if it's going to screw your phone up.
Also, make sure you turn your Wi-Fi and Bluetooth off when you're not using it, as leaving it on makes it easy for hackers to plant malware or viruses in your phone.
These are just a few simple steps you can take to make sure both you and your phone are kept safe. It's just about being smart about what you use your phone for, and where you use it. Ask yourself, what could someone do if they got their hands on YOUR phone?
About the author: Jasmine Ayres regularly blogs for Vicorp, one of the leading biometric security companies in the UK. She is an expert in technological security measures, for example, biometric authentication and two-factor identification.
Photo credit: Cheon Fong Liew