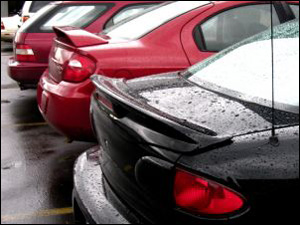 The average New Yorker doesn't drive a car. For those that do, they have to worry about getting a parking ticket that may be as much as $115. Now one lucky person will purchase a million-dollar parking space. Even for New York City, this is a first.
First Million Dollar Parking Space
What does the buyer get for one million bucks? Well, hold on a minute. It's not that simple. First, the buyer must also purchase the penthouse for the list price of $38.8 million. If you think that's a bit steep, just understand that the home has 8,000 square feet of space plus a 3,000 sq. ft. terrace.
Although it's a prewar building, the owner can be sure that the developer is sparing no expense. In addition to the highest quality building materials and decorations, the showers will add vitamin C and aloe to the water. The floors will have heat reflexology, and the light and air flow are designed for premium comfort.
The coveted parking space is 12 feet by 23 feet. The curb at the street will be cut to allow the driver to come and go as he or she pleases. With a 15-foot high ceiling, the owner could also purchase a car lift and have two parking spaces for the price of one. One million, that is. The owner will pay fees for the parking space in much the same way as a condo owner pays fees. These fees presumably will ensure upkeep of the building since presumably one million dollars is simply not enough money to maintain a one-car parking garage.
Owner of Spot?
Who will pay this type of money for a parking space? The owner Morad Fareed is banking on billionaires or celebrities. He purchased the former parking garage last year, and he is converting the eight-story building into six luxury town homes. Each will have the 15-foot-high ceilings that made the loft building so attractive to the developer.
For non-New Yorkers, here are a few figures that may serve as a reality check. Parking in NYC starts around $40 a day. To park overnight or maintain a parking space, the rates start going up. The minimum for a monthly parking space is around $450, and that may be an underestimate. Amazingly, New Yorkers pay less than those on other continents.
In Australia, Perth drivers are paying over $700 to park each month. In Hong Kong, one of the most land-locked cities of all time, drivers pay $750 in monthly parking bills. In Switzerland, where the weather alone is reason enough to want to park indoors, parking garages are charging more than $800 a month.
London's parking prices are even higher. The West End parking garages charge more than $1,000. Tokyo residents pay similar high prices. In fact, in Tokyo, you might not be able to purchase a car if you can't prove that you have a place to park it!
The one million dollar parking space may not be the last of its kind. With plenty of celebrities and business billionaires living in New York, there must be many who want this kind of convenience. If it were me, I would use that million dollars for car services and taxis. Then I'd never have to find a parking space at home or away.
About the author: Amber Tate is a contributing writer to www.kanetix.ca. Click here to visit them today for insurance quotes comparisons.
Photo credit: Crystal Ayala