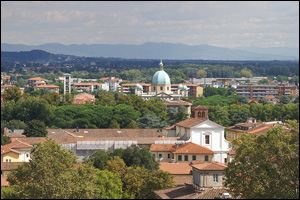 Anyone looking to take escape the stress of daily life on their next holiday would do well to consider visiting the Tuscany region of Italy. Renowned for its amazing landscapes, culture, history and art, it is the perfect place to take a step back, relax and unwind.
Tuscany is best visited between late spring and early autumn when the weather is at its warmest, and there are a wide range of accommodation options such as camping, holiday rental villas and hotels to choose from.
From Bustling Tourist Hotspots to calming Hot Baths
While many choose to stay in Florence or one of the popular resort areas of Tuscany for their vacation, those seeking a truly relaxing holiday might might consider some of the smaller towns and villages both on the coast and in rural regions. Many of these are well known for their hot springs and spas, and one such place is Bagni di Lucca, which is situated in the Lucca region of Tuscany.
Even if not staying at this historic spa town that is surrounded by mountain villages, visiting it is a great introduction into the Tuscan way of life. With a history stretching back many thousands of years, it has some fine architecture and places of archaeological interest. The main point of attraction here are the spas which are strategically built around the restorative thermal waters that flow in the region and many hotels have developed into spa retreats. Staying at one of these spa hotels can be the ultimate relaxing experience, and the town also offers many fine restaurants and shopping facilities.
Dipping in the Thermals for Free
If the idea of visiting a spa during a holiday sounds appealing, then it might also be of interest to know that there are also many public spa and hot pool areas in the Tuscany region that are free to visit. The two most well-known of these are Saturnia and Petriolo.
Saturnia can be found in the south of Tuscany, and is surrounded by a landscape of olive groves, vineyards and wooded hills. A series of white rock pools are filled with water measured at 37 degrees, and this seems to be the ideal temperature to release aches and pains! In addition to the healing qualities of the hot waters, Saturnia is visually stunning, and some great photos can be taken here.
The second free area is Petriolo, and can be found twenty minutes south of Siena. These pools are positioned beneath some ruined walls dating from 404AD, and are thought to be the only remaining example of a fortified Roman thermal bath. The temperature is measured at 43 degrees, and the waters are said to be a cure for all manner of ailments such as colds and arthritis.
The Tuscany region of Italy has a lot to offer the tourist looking for a stress-free holiday, and the spa areas mentioned above are just one part of it. With museums dedicated to the renaissance era artists, Roman remains, castles and a countryside that invites walking or cycling, Tuscany is the ideal region in which to take that much needed relaxing break.
About the author: Dave writes for Spa Travel an online travel agent dedicated to offering the cheapest Spa Breaks, flights, hotels and holiday packages for the UK outbound Traveler.
Photo credit: Gerrit Labrijn