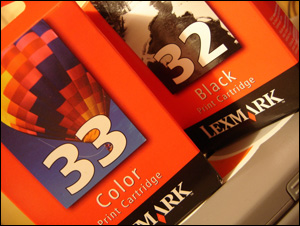 The dirty secret of the printer industry is that sales of ink, toner and other consumables make up the bulk of the profit for the manufacturer. Consequently, buying toner cartridges at your local office supply store can deliver serious sticker shock. But using printers in your business is absolutely essential.
Put these practices into place and keep your toner bills from busting your budget:
1 – Send it Out
In-house printing can save small companies money by allowing for print-on-demand of marketing and other promotional materials. However, depending on how many prints you need, and the quality, professional printers can sometimes save you 50-70% per printed page. The up front cost might seem high, but if you're sure to use all the materials, saving half is definitely a good buy.
2 – Break the Habit
Does your company have a clear policy stating which documents to print and when? Many times employees print documents out of habit. We are still a tactile culture and love to have the document in our hands. Establishing a clear policy can help employees kick the printing habit.
3 – PDF It
Be green and use the "Print to PDF" option. PDF's show your document in a printed format and make it easy to store, classify, and share the document. In addition, using this format saves money on printer paper, staples, file cabinets, file folders, and the not-so-popular job of filing! It also eliminates a lot of clutter.
4 – Preview First
Be sure to use the "Print Preview" option when printing. It's discouraging to find that a printed document contained pages of internet ads or unnecessary graphics you didn't desire, consuming precious printer ink. Additionally, when you make "Print Preview" a habit, you'll always have the option of just printing the part of the document you need.
5 – Draft Your Drafts
Print in "Draft" mode when printing everything but final copies. The "draft" mode is designed to use much less ink when printing.
6 – Optimize Your Font
You probably didn't know there are ink and toner-friendly fonts. Some fonts use considerably more ink than others. Century Gothic is considered to be the "greenest" of the traditional fonts available in normal software. This font may not be compatible with your branding, but could be a good choice for in-house documents and drafts. A Dutch company has now created an even more "green" font called Ecofont. It's based on Veranda and is useful at smaller font sizes such as 8 or 10 point. Their statistics show that it can save up to 75% of your ink usage over more commonly used fonts.
7 – Drop the DPI
If you do need graphics in your drafts, change the graphics settings for your printer to a lower dpi (dots per inch.) Again, this will save a considerable amount of ink over time.
8 – Designate a Printer Guru
Having one or more people learn how to keep up on printer maintenance and change the toner or ink can prevent spills and other mishaps. Toner is relatively easy to spill, is a pain to clean up, and expensive to replace. So is a poorly performing machine. Pick and train someone to keep things running smoothly
9 – Buy Recycled or Non-Branded Ink and Toner Cartridges
In addition to changing your printing habits, consider using recycled or non-branded printer toner cartridges. These can save a lot of money when combined with the tips above. The savings could easily add up to hundreds of dollars a year, and you'll be helping the environment as well.
About the author: James Miller has been supplying generic and branded ink cartridges through Wholesale Toner to Australian businesses for over 10 years. The printer cartridge can be a huge expense for any business. By using high quality generic cartridges and ink such as the hp ink cartridge, businesses can save hundreds of dollars!
Credits: Photo courtesy of Andy Melton.