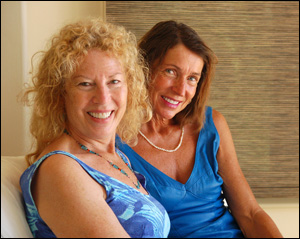 Growing up, if you'd ever picked up one of your mother's magazines aimed at the 'older lady' you'd probably have found yourself under the impression that once a woman hits fifty she is supposed to develop a penchant for bulky sweaters, elastic waistbands and a no-nonsense approach to life.
Times change however and fifty is no longer considered old. Many career women are now working well into their sixties, and the older generations are healthier than ever thanks to modern medicine. If you feel young, there's no reason to dress 'old', there is no rule that says fifty has to equal frumpy.
However, it does pay to keep a few pointers in mind to avoid that terrible mutton-dressed-as-lamb look.
Remember, just because it looks great on your daughter doesn't mean it's going to look great on you!
Even if you're fit and healthy, your body will not be the same as it was twenty or thirty years ago.
The key to looking fantastic at any age, whether that's 25 or 75, is to dress for your body shape and as this changes throughout our lives, so too, should your wardrobe.
Throw out those dresses you've been saving since your twenties (or give them to your daughter – technically they're 'vintage' now which she'll probably love) and follow these three key tips to staying stylish over fifty…
1 – Don't confuse modern shape wear with what your mother wore.
We've all grown up with shape wear, from the girdles you squeezed yourself into when you were twenty even though you didn't really need to, to the horrid, flesh-toned shape wear your mother wore. If you haven't set foot in the underwear department of your local Marks and Spencer for some time, you'll be pleasantly surprised to find that shape wear now comes in a range of flattering designs that not only shape and sculpt the body, but look great too.
High-waisted knickers are a hot trend right now, and perfect for covering a stomach that's more wobbly than washboard. Brands such as Spanx have created a wonderful range of innovative underwear that combines flattering designs with firm-but-comfortable fabrics to smooth out any lumps and bumps.
2 – Never shy away from color.
As you get older it can be tempting to stick to 'classic' colors such as black and grey, and to think bright colors are going to look tacky on you, when in fact the opposite is true – color can be one of the most youthful things a woman can wear! Just don't overdo it. Head to toe rainbow hues are probably best left to teenagers, so add a splash of bold color with a scarf or a belt, or mix up colorful pieces such as a sweater with black trousers or a skirt.
3 – Dress for your body shape, not for the body you had a decade ago.
To stay stylish, it's important to regularly reassess your body shape and needs. Waistlines expand and busts deflate, so take a good look in the mirror and work out which bits look great and which need a little help.
Everyone has something to show off, it just might not be the same thing it was twenty years ago – perhaps you once had fantastic legs and now your knees are starting to wrinkle, but thanks to a great skincare routine you have a neck and decolletage to rival a forty year old.
By fifty, it's normal to know what styles suit you best and there's no reason to change this. Instead, adapt them to suit your new figure, whether that's choosing trousers with a slightly higher waistband or adding a camisole under your V-necked wrap dresses to avoid showing too much cleavage.
I hope you've found these tips useful. Overall, the key to great style is to stick with what you love but keep your changing body shape in mind too. Be inspired by, not led by, trends and remember to not only cover up those bits you don't like but to emphasize the ones you do too. If you have any other advice for staying stylish over fifty, please leave me a comment below!
Bonus tip: Buy Good Beaty Products at GoodBeautyProducts.com
About the author: Kate Dawson writes for Clarivu who offer refractive lens exchange (RLE) and cataract surgery to help keep your vision perfect, meaning you can finally throw away those glasses!
Credits: Photo courtesy of Stephanie Young.