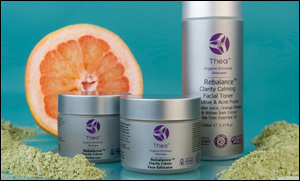 Oily skin is caused by over-productive sebaceous glands which produce more oil than your skin really needs to stay hydrated. This can leave your skin feeling greasy and looking shiny – not a look most people would want!
Oily skin can also lead to problems such as acne and can cause spots to constantly appear, as that extra oil blocks pores and also traps dirt on the surface of the skin.
Oily skin, spots and acne can lead to insecurity and a loss of confidence – many girls try to cover it up with extra foundation, which in many cases can just make the problem worse. Thankfully, there are some ways to control that shine! Here are my 4 favorite tips:
1 – Use Non-Comedogenic Products
Non-comedogenic is a fancy term for non-pore blocking. Look out for it on every product you buy – if you suffer from oily skin, you definitely do not want anything that will add to the problem! Oily skin needs moisturizing just like dry skin does, so by using a non-comedogenic moisturizer you can keep it nourished and hydrated without the fear of clogging your pores and getting spots.
2 – Cleanse Twice a Day
If you have oily skin cleaning it appropriately is absolutely vital so that dirt and bacteria trapped in the oil can be removed before they have a chance to cause spots. You should select a cleanser which is designed specifically for oily skin as this will be able to provide the skin with the particular nutrients it needs, in a lotion or cream that won't add extra oil to the skin (as many dry skin moisturizers do).
However, you must ensure that you do not use too many products on your skin or over wash it (three times a day is the absolute maximum I'd recommend, if it really needs that extra clean) as this will dry skin out too much and cause it to produce even more oil ti compensate. Don't use harsh 'anti-oil' cleansers either, as ones which are too strong may strip the skin of oil completely and leave it looking flaky. A mild, natural cleanser is always best.
3 – Use Warm Water
You should use warm (yes, warm – not hot!) water for showering and cleansing your face as it can help to dissolve oil on the skin more effectively than cold water, but will not dry the skin out too much as very hot water will do.
4 – Use a Face Mask Every Week
Day to day cleansing will strip away those nasty dirt particles, but sometimes bacteria and impurities get deep down into the skin and a quick cleanse just wont do the trick. You can't give your skin a deep cleanse too often, as this will over-dry it, but it is essential that you clean deep down into your pores at least once a week, possibly twice, to pull out those deep-seated impurities.
A great way of doing this is by using a face mask for oily skin once a week, as they are excellent for working way down into pores to leave your skin feeling clean and refreshed. They'll get rid of dead skin cells too which often become trapped in skins oil and clog it up.
A cheaper (but slightly less effective) option is to steam your skin – get a big bowl and fill it with near-boiling water, then pop your face over the top (being careful not to get so close it burns) with a towel over your head and let the steam work its cleansing magic for five or so minutes. Just be warned – you'll be bright red and sweating by the end of it so it's best to save this for a Saturday morning and not Friday night right before you go out!
About the author: Michelle Star writes for Thea Skincare, a 100% natural skin care brand that sells a range of gentle, organic products for oily skin including cleansers, toners, moisturizers and more. Image courtesy of Thea Skincare.