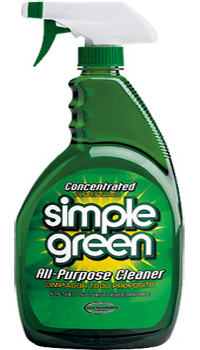 Cleaning our homes is essential. We need to pick up after ourselves, vacuum or sweep our floors, dust, mop – there is a lot to do. Most household cleaners contain harsh chemicals that are not good for the environment or for our health. Some have an awful smell that lingers throughout our homes. Others produce heavy toxins that we start to get a headache shortly after we start cleaning. Some are so bad that they burn the back of our throat.
Luckily, many green cleaning products are available today that still clean just as well as regular cleaners, but are less harmful to both the environment and ourselves.
From floor cleaners to laundry detergents, there are plenty of green products to choose from. The following are the top three brands that offer a variety of green products.
1 – Seventh Generation
Seventh Generation is one of the top brands for green cleaning solutions. They offer an array of products, including household cleaners, dishwashing detergents, laundry detergents, fabric softeners, hand soap, disinfectants, and even baby care and personal care items.
Seventh Generation products use non-toxic ingredients for the environment that are safe for the surfaces, fabrics and air in your home, as well as the people and pets that live there. Seventh Generation ensures that their products are both made with safe ingredients as well as safe for the environment when disposed.
The company prides themselves on constant research of their products to increase performance and reduce environmental impact. They disclose every ingredient in every product they produce, and they were also received Champion level recognition from the  EPA's Safer Detergents Stewardship Initiative (SDSI).
2 – Method
Method is another great green line of cleaning products on the market. The goal of Method is to produce products that are gentle and safe to use. All of their bottles are made from 100% recycled plastic and they never test on animals. All of their ingredients are natural, and like Seventh Generation, they disclose every ingredient in every product.
From household cleaners to hand soaps to disinfectants to baby wash, Method uses responsible and safe manufacturing techniques to create safe products that are also strong enough to clean every corner of your home (or body). All of Method's products are people and pet friendly, and unlike toxic cleaners, there are no awful side effects with Method cleaners.
3 – Simple Green Naturals
Simple Green Naturals products use ingredients that are 100% from nature, including coconut, palm, corn, chicory, water, salt and sugar.
All of their non-toxic formulations are biodegradable, and like Seventh Generation and Method, they offer full disclosure of their ingredients. All of their scents are natural and IFRA compliant. Their bottles are 100% recyclable PETE plastic that are printed with soy inks and they do not test on animals.
If you're in the market for safe cleaning products, Seventh Generation, Method and Simple Green Naturals provide you with the widest selection of products and the best and safest ingredients for your home, your family and your pets.
About the author: Paul Davis is a biologist who studies the effects of certain chemicals on the environment.  Paul currently works as a quality control supervisor, making sure that MSDS sheets are regularly updated.
Credits: Photo courtesy of Simple Green.