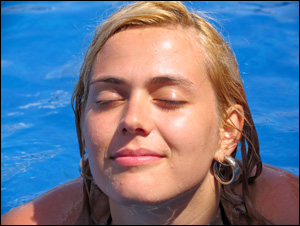 Most women dread the day they see their first patch of gray hair, or their first laugh line. The market is flooded with anti-aging products to prove it.
If you are concerned with the effects of time on your body and mind, then you will be pleased to know that there are things you can to do counter the aging process and hold on to your youthful appearance and mindset as long as possible.
Do you plan on growing old gracefully? If so, then you will want to check out these five anti-aging secrets that every woman should know:
1 – Exercise
This is the single most important thing you can do to prevent the troubling side effects of aging. Not only does exercise simply make you look better, but it also strengthens your bones (brittle bones is a common problem for aging women), improves your lifespan, and lifts your emotional state so that you are inspired to take other measures to counter aging.
2 – Pampering
Indulging in things that make you feel good is not a luxury. It is a necessity if you want to prolong your youth. Why? Because stress manifests itself physically, mentally, and emotionally . . . and can age you dramatically. Take some "me time," and as often as you need it.
3 – Start Early
Don't wait until you see signs of aging to address them. Establish health anti-aging habits as early on as possible, and they will keep you younger, longer.
4 – Eat Right
This seems to be a no-brainer, but many people don't understand what it means to eat right. Avoid diets and severely restricted meal plans, which can severely and permanently throw your metabolism off balance, sending you on a crash course of lifelong weight struggles and early aging. Instead, develop the habit of eating five to six small, well-balanced and low fat meals throughout the day.
5 – Develop Close Relationships
Love freely, and often. Relationships are proven to increase your quality of life and make you look and feel younger for longer. Close bonds may come from best friends, parents, children, and even coworkers. The point is that you interact with others and feel that you have a support network.
As you can see, countering the effects of age is more than a purely cosmetic pursuit. The biggest anti-aging secret is to focus on living a well-balanced life. If you follow these suggestions, you will be well on your way to living a long, rich, and rewarding life . . . and you will find that age is nothing more than a number.
About the Author: Carry Osiecki knows that the secret to anti-aging is in both physical and mental health. She currently works in a busy candida specialist office and spends her spare time researching wellness tips for women.
Credits: Photo courtesy of Svilen Milev.