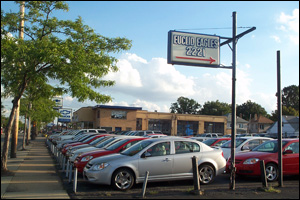 Car buyers today are in the market for a quality vehicle at a fair price. Many are considering the option of purchasing a used car to save money on the sales price. There are a wide range of used vehicles available for purchase at any given time, in most geographic locations.
So how can you find a quality vehicle that is best suited for you? Consider these tips when shopping for your next used car:
1 – Determine Your Budget
With how many used cars there are to choose from on used car lots as well as in online listings, you can spend weeks browsing the options. In order to narrow down your options to a vehicle that is best suited for your budget, consider analyzing how much car you can afford.
Keep in mind that when you purchase a new vehicle, factors of ownership and usage will change. This includes auto insurance rates, fuel costs, the auto payment, and repair costs. Understanding your total auto budget is the first step toward buying a used car you can afford.
2 – Get Pre-Approved for Financing
After determining your own auto budget, then shop for an auto loan if necessary. Some used car buyers pay cash, but most will depend on financing for their purchase. You can shop for great rates and terms online
Keep in mind that the rates and terms for used vehicles will vary based on the age of the car. While newer vehicles may have a higher sales price, they also may qualify for lower rates and a longer term. These factors may make it more affordable for you to purchase a newer vehicle rather than an older one in some cases.
3 – Shop for Insurance Rates
Once you have narrowed down your purchase options to two or three top makes and models, you will next want to shop for insurance rates. Insurance rates will vary based in part on the make and model of the vehicle being insured. By getting rate quotes for the car options you are considering, you can determine which vehicle would be more affordable to insure before you make your purchase.
4 – Analyze Mileage Vs. Cost
Many vehicles on the road today are designed to provide you with well over 100,000 miles of travel. So a car with high mileage is not necessarily a car to be avoided. However, mechanical components will need to be replaced over time and with mileage.
You can compare the mileage versus the cost of various models to determine which may be a better deal for you. While doing this, also consider which vehicles have already had mechanical components replaced. The car owners should be able to provide you with this information.
5 – Get a Mechanic's Opinion
Whether purchasing a car with 30,000 miles on it or 130,000 miles on it, it is important to have a professional mechanic review a vehicle before purchasing it. Some sellers may be trying to get rid of their vehicle because they are aware it needs work done that they don't want or cannot afford to pay for. Other sellers may not be aware of mechanical defects or issues with their car. A mechanic can identify such issues for you. This can provide you with a list of items that you may need to pay to repair during the first few months of ownership, or you may negotiate with the seller to have some repair work done before the purchase.
6 – Avoid Lemons
There are a few additional steps you can take to ensure the vehicle you are purchasing is the highest quality car. You can visit your state's Department of Motor Vehicles or similar agency to research the car's history through its Vehicle Identification Number (VIN). Check the Center for Auto Safety for known recalls on the vehicle. You want to know exactly what you are buying, and these basic steps can help you to be an informed buyer.
When purchasing a used car, you want to know exactly what you are buying. By following these provided tips, you can more easily find an affordable, quality used car.
About the author: Samantha Lamb is a car collector. She often writes for carinsurance.org.uk, a place to get a bid for inexpensive car insurance.
Credits: Photo courtesy of Stu Spivack.