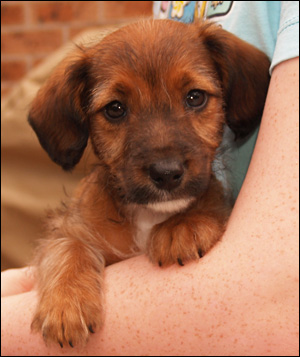 One could think puppies are exceptionally adorable so we're quick to forgive their puppy mishaps during the training stage. How can anyone stay angry at those puppy eyes, and that wagging tail? Still, whatever you can do to help your pooch graduate from housetraining may make you love him that much more!
If you're doing all you can but your efforts are still failing, take a moment, step back, and make sure you and pooch are not among the five common reasons behind difficult house training.
1 – Inconsistency
Your pup knows you mean well; you know he wants to delight you, but without a schedule, the likelihood of accidents remains enormous! Dogs like pleasing their owners; yelling and hitting will not get you to your housetraining goals any sooner.
When you do need to tell pup, "NO" then the key is to catch him in the act. Take him outside immediately, and if needed you may think about adding an extra potty break to the schedule.
2 – Lack of supervision
Unfortunately, you can't catch those potty and chewing incidents in progress if you can't keep an eye on Fido. In reality, you can't watch your hound every second of every day. You can discipline and encourage when you are with your pup. Take measures like crating when you are away to minimize the risk of mishaps.
Try to spend the first 24-48 hours with your pup when you bring him home. I recommend bringing your puppy home on a weekend, for example. This gives you time to enjoy and adapt to puppy parenthood, and the constant supervision allows numerous chances to let your new puppy know what he is doing right, what areas and actions are off limits, all while allotting time to get to know his new pack/family.
3 – Breed-specific challenges
Genetics do play a role in trainability, so some breeds are more difficult to housetrain. Age can be another factor, but in most housetraining cases, the owner is working with a puppy. And, puppies are also more energetic and easily excited… So excited, in fact, that nature may come to call just at the sight of their owner!
4 – Castle or cottage?
The size of the abode matters. The bigger the house the tougher housebreaking will be. When dogs have more area to explore and mark the pooch will take full advantage.
5 – Temptations
Most homes provide an assortment of temptations for pets who are resistant to housebreaking. For example, indoor plants just beg to be peed on, and the shoes you leave on your bedroom floor scream 'chew me!'
Want to successfully housetrain your hound? Here are five suggestions:
1 – Set a schedule and establish a routine.
2 – Bring your hound home on the weekend and spend a couple of days getting to know one another and reinforcing healthy habits.
3 – Get to your breed of choice.
4 – Shutting bedroom doors will make your home feel smaller.
5 – Move those indoor plants.
Remember, if you don't want it chewed on, don't leave it within paw's reach!
About the author: Susan Wright is a veterinarian with over 10 years experience and an expert on dog bark collars. Susan authors articles on the proper care of dogs and tips to make life with the furry pets much easier.