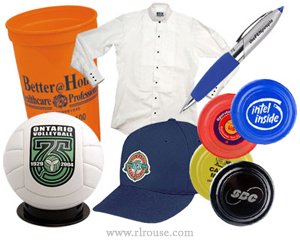 Have you ever wondered why banks hand out free calendars to customers and non-customers alike? It's because every time those people look at the calendar for the next year they will be staring at the bank's logo. It's called branding, and there are few methods of advertising that offer more bang for the buck.
Promotional items displaying your company's logo can literally cost just a few cents each, but they'll continue driving new customers to your business for well into the future while keeping you fresh in the minds of your existing customers until they decide they need your products or services again.
I happen to have a favorite ballpoint pen that I carry with me everywhere I go. I just love the way it writes and it feels just right when I hold it in my hand. How much did I pay for it? Absolutely nothing. Someone handed it to me one day as I was walking past a pizza parlor and I've used it ever since. And you know what else I've done ever since? Ordered a pizza at least once a week from that very same restaurant. The funny thing is I probably would have never set foot inside the place had I not been handed that pen! For well less than $1 that establishment was able to gain a new customer, probably for life since I absolutely love their food.
Regardless of the type of business you run there are numerous kinds of inexpensive promotional items that would be very effective at promoting it. In addition to the aforementioned calendars and pens, there is also candy, T-shirts, combs, note pads, and many, many more. Choose one item at a time or try a combination to see what works best for your particular business.
Traditional advertising methods such as radio and television ads indeed work, but they are expensive and the results are short-lived. Promotional items on the other hand are extremely affordable and the results can last for months and even years.
About the author: Barbara Glick has over 15 years of experience in marketing for small businesses. She lives in sunny southern California with her husband and three children – well, three spoiled Pomeranians!
Credit: Photo courtesy of Last Minute Promotional Products.