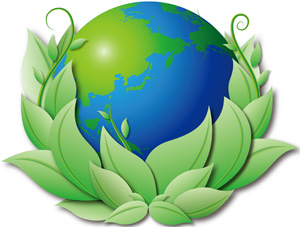 If you are interested in the environment and green living, you can actively pursue those interests using your iPhone. There are many apps dedicated to environmentalism and green living that ready for download from the Apple App store.
These apps cover a variety of green applications, including personal healthy eating, fuel efficiency and recycling. Although many of the apps are free, some cost a minimal amount that is well worth the money. The following is a list of five iPhone apps that cover the full range of a green lifestyle:
1 – IRecycle
This app not only makes recycling easy, it also helps you to connect with other recyclers through social media websites, such as Twitter and Facebook. The app allows you to find the recycling facilities for over 300 recyclable materials that are closest to your location. Additionally, the app provides daily articles and tips by the Earth911.com website. IRecycle is available free of charge.
2 – GoodGuide
This application has a built-in barcode scanner that allows you to scan the barcodes of products you want to buy while shopping to reveal whether they are green products. If a product you want to buy is in the GoodGuide database, the app reveals details about its environmental impact, nutritional value, energy efficiency and other factors that can help to determine if the product is acceptable for your green lifestyle. Currently GoodGuide has over 120,000 products in its database and you can download it to your iPhone for free.
3 – Green Gas Saver
If you are concerned with the amount of fuel you are burning while driving your car, the Green Gas Saver application can improve the way you drive, which in turn lowers your fuel costs. The application works by warning you when you are driving too aggressively, which forces your car to burn more fuel. The app displays two gauges on the screen that shows your driving habits in real-time, such as how you take corners and how fast you drive.  It has warning LED's to warn you when you are not driving efficiently and displays a score that shows you how well you are doing. Improve your score to reduce your fuel costs. This app is available as a free download.
4 – Find Green
The application helps you to find eco-friendly and green businesses that fit your lifestyle. Enter your location in Find Green to reveal a list of green businesses in your area.  It allows you to enter specific search criteria about the type of business you want to find, such as an organic grocery store or coffee shop. The app will display a list of the stores closest to your location. Find Green is especially useful while you are traveling, because you can find green stores even if you are not familiar with the area. This application is also available free of charge.
5 – Green Genie
This application costs $0.99, but its list of features is worth the price. Green Genie is a huge collection of green resources and tips that will help to live a more fulfilling green lifestyle. The resources and tips are separated into easily searchable categories that cover every aspect of a sustainable lifestyle. Recycling, buying home appliances and detailed information on green organizations are just some examples of the resources available. In addition, the app allows interaction with other users through social networking which further enhances the amount of information that is available.
About the author: Christine Jensen is a business writer earning an online MBA in Marketing to change her career path.