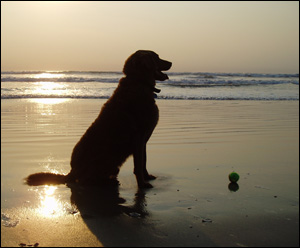 Arthritis is a painful and progressive disease that affects nearly all cats and dogs to some degree later in life. The condition is characterized by swelling and inflammation of the joints and typically causes pain, stiffness, and loss of mobility.
Unfortunately, there is no cure for arthritis; however, medications and lifestyle changes can halt progression of the disease and greatly improve symptoms. Below are ten steps you can take to improve your pet's comfort level.
1 – Visit Your Vet – Before you can begin a treatment plan for your arthritic pet, you'll need to know the extent of your pet's joint damage and rule out other causes for your pet's symptoms. Your veterinarian will examine your pet, note his symptoms, and order X-rays or other diagnostic tests before working with you to develop a comprehensive treatment program.
2 – Use Medication – Medication is not a cure for arthritis, but it can effectively control symptoms of the disease. Non-steroidal anti-inflammatory drugs (NSAIDs) reduce inflammation and swelling, and steroid injections offer short-term help for severe pain or stiffness.
3 – Try Supplements – Over-the-counter supplements, especially those containing glucosamine and chondroitin, can help repair damaged cartilage and protect against future joint damage. Cosequin and Glyco-Flex, two OTC supplements that improve joint health, are well tolerated and act quickly to improve symptoms.
4 – Put Your Pet on a Diet – Overweight and obese animals are at greater risk for developing arthritis because excess weight increases joint strain. If your pet is overweight or obese, one of the most important things you can do for his joints and his overall health is to make changes to his diet and activity level to promote healthy weight loss.
5 – Encourage Activity – Daily exercise can increase flexibility and strengthen muscles and ligaments to improve your pet's mobility. Arthritic cats and dogs may need assistance when exercising, however. Consult your veterinarian about the safest way to introduce exercise into your pet's life.
6 – Massage Your Pet – Massage, whether amateur or professional, improves circulation, increases flexibility, and induces feelings of calmness and happiness. If you are not comfortable giving your pet a full massage, spend some time each day gently stroking sore areas of your pet's body.
7 – Fix Your Floors – Slippery floors are dangerous for any animal, but they can be disastrous for arthritic pets. Place non-slip rugs down on areas your pet uses frequently, and remove hazards to prevent slipping and tripping.
8 – Replace Bedding – Arthritic animals have difficulty getting comfortable and sleeping, especially thin animals without a lot of natural padding. Give your pet a soft bed to sleep on and place a folded blanket on the floor in areas where your pet likes to hang out.
9 – Help with Grooming – Arthritic dogs and cats may be unable to groom themselves properly, which makes it your responsibility to help them with this need. Trim your pet's hair around his rear end and face, brush regularly to remove tangles, and bathe your pet gently to remove dirt and debris.
10 – Understand Your Pet's Pain – One of the most important things you can do for your arthritic animal is understand his condition and provide lots of love and patience. Arthritic pets may be slower than other animals and tend to be less tolerant of noise, children, and changes in routine. Give your pet extra time and plenty of peace and quiet.
Although there is no cure for your pet's arthritis, you can improve his mobility and quality of life by making changes that will increase his comfort level. Light exercise, slip-free floors, and nutritional supplements can ease your pet's symptoms and ensure a long and independent life.
About the author: This article was provided by www.vetdepot.com, a trusted online retailer of pet meds and pet supplies.
Credits: Photo courtesy of Blair Humphries.