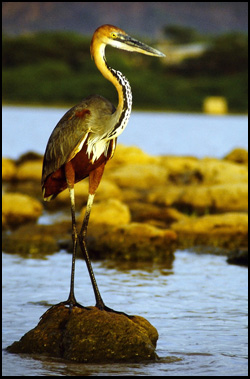 From desert dunes to flamingos in the ocean, Namibia is an interesting and unusual country in which to bird, an example of unspoiled nature.
Flying into Namibia, you may arrive at Windhoek, the capital, located near the center of the country amongst the rolling hills.  Daan Viljoen Game Park, in the Khomas-Hochland Mountains, is only a short drive from the capital and has gravel roads and hiking trails to see the abundant wildlife, especially birds. Look for the Rockrunner, Cape Shoveler, and the Barred Wren-Warbler.
Traveling to the northeastern panhandle area of Namibia, make a stop in Okavango and Caprivi. A densely wooded wilderness makes birding interesting, with over 420 bird species reported. Pririt Batis, Pied Barbet, Black Korhaan, Blackcheeked Waxbill and Titbabbler are among the birds you might spy among the leaves.
In the northern central section of the country, Etosha is Namibia's premier game park, the world's largest national park covering over  13,670 square miles. Created in 1907, it is one of the major sanctuaries for wildlife in Africa. Dense brush alternates with open arid salt plains, offering a wide variety of bird habitats and viewing opportunities. Watering holes act as magnets, drawing animals and birdlife around the clock. [Read more…]