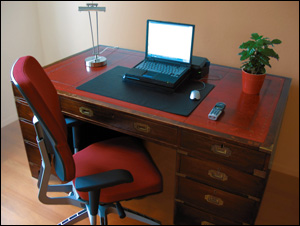 It certainly seems that we have crossed the threshold into a new and exciting era when it comes to the work force. The latest advances in technology has allowed for perks that many of us have wanted for a long time.
Working from home has been a dream of many, for various reasons. For one, parents have a wonderful opportunity to be able to provide for the family, and be a part of it at the same time – something that is difficult to do, if you are never home. Attending school events and helping with homework is so much easier to do, when you can be flexible in your hours.
The types of jobs available also vary including graphic designers, freelance writers, bloggers, and online retail businesses.
However, there is one common denominator between the various reasons and careers. Security. Anyone working from home is now fully responsible for their own security of their livelihood, equipment, and furnishings. And, when you rely on the internet, computer, and files, you need to make sure it's all protected.
Why You Need Protection
If you are working from home, then you are most likely relying heavily on the Internet for a large portion of your work, along with computers and various other areas in technology. And there are multiple elements of risk to losing it all.
A fire or flood could wipe it all out in just minutes. Storms blowing through your community could knock out the power for days. And, there is also the possibility that your computer could be stolen, lost, or simply have a meltdown, otherwise known as a crash.
I have a website that is all about dealing with disasters, and protecting ourselves against them. I not only review home and car emergency kits, but also offer 'how to' guides for survival. The reason this is so important to me is that as a member of the insurance industry, and having witnessed several disasters, I am very familiar as to what it can do to your world as you know it.
So, let's take a look at what you can do to protect your livelihood:
1 – Your Equipment, Furniture, and Dwelling
Probably the first thing I would recommend is to make sure your home-based business is properly insured. Don't assume that your homeowner's policy will be adequate, especially if you have clients coming to your home office, or deliveries related to the business.
The average homeowner's policy will not cover more than $2,500, even for a complete loss. Speak with your agent to see if you need a business owner's policy, in-home business policy, or a homeowner's endorsement policy. An interview with the agent will help determine what you need.
If you are under insured, you risk losing a lot of what you have worked so hard to achieve. On the other hand, being over insured is throwing money out the window.
2 – Don't Lose Productive Time
We have all experienced the power going out at some point in our life. It's inconvenient, when it's a small outage for a short time period. However, if you have ever experienced a power outage that lasts for more than 24 hours, you know that it's more than just a simple inconvenience.
Food can start spoiling, plumbing issues start to develop, and…you can't work, if you work from home. That's not only frustrating, but a huge detriment to your business. It's bad enough that you can't get your work done, but then you also might not be able to communicate with anyone.
A great way to prevent this type of loss is to have a generator. There are the standard generators that you can use to operate small items. And, then there are the standby units, which are hard-wired to the home. They will automatically turn on when the power goes out, and can be hooked up so that the entire home is functioning.
What this means for you is that you won't have to miss out on much work, if any at all.
3 – Protecting Your Technology
As our technology increases, so does the need for protecting it all, For example:
Passwords and Usernames – Software programs such as Roboform will store your passwords and usernames for various applications and programs, so you don't ever have to worry about losing them.
Computer data – Online computer backup programs such as Carbonite will automatically backup and store all your computer data.
Hard Disk – Programs such as Casper Secure creates an encrypted copy of the PGP Whole Disk Encrypted Windows System hard disk. This includes the applications, settings, data, and the entire operating system.
These are just a few ideas on what is available to assist you in maintaining your business and keep it running smoothly during any crisis.
4 – A Safe Way to Protect Valuables
There will be items that you will not be able protect through the ideas listed above. Things such as tax papers, original photos, and various other original papers will be best stored in a fire proof safe. This will not only help in the case of fire, but also theft.
In Closing
If you have worked hard to turn your dream of working from home into a reality, then take the right steps in protecting that business. It doesn't matter if you are just starting out, or have had your business for a while now. However, I cannot tell you that it's never too late. Sometimes, it is.
Bonus tip: Be sure to check out these awesome Free Project Management Templates.
About the author: Duncan Morrison has witnessed the results of several disasters through his work in the insurance industry over the past 16 years. He combined his passion for insurance, along with a passion to inform others on how to survive a disaster, and developed a website called www.itpaystobeprepared.com. It reviews disaster kits for home and auto, so readers will know what will work best for them. On his downtime, Duncan enjoys life in Edmonton with his wife of 7 years and their dog Sammy. He also enjoys a good round of golf, poker game, and the movies.
Photo credit: Henk L.