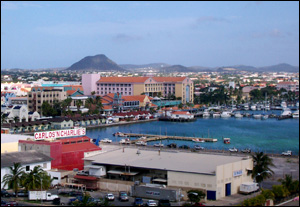 Sitting serenely off Venezuela's stunning coastline at the top of South America, Aruba is an island that manages to combine a feeling of the Caribbean with its own unique South American culture. The island is one of four constituent countries that make up The Netherlands and it is fiercely protective of its Dutch influence, despite sitting all the way over on the other side of the world.
Town names are nearly all Dutch, most people speak Dutch and the head of state for the Island is Queen Beatrix of Holland. This influence makes it an even more intriguing destination, particular for foodies as the cuisine on offer is a wonderful hybrid of Caribbean, South American and Dutch food.
So, if you're heading for Aruba, here are a few suggestions as to where to go and experience as much of this amazing food as possible:
One of the first places to start is at The Old Cunucu House Restaurant. This is a place to truly get away from it all, off the beaten track in a wonderfully faded 150 year old Aruban house. Get a table outside and order a bottle of wine to drink as the sun sets. Then tuck into some of the fantastic Aruban specialties on offer.
These Aruban specialties include the delectable Dutch influenced Keeshi Yena. This is a delicious dish of Gouda cheese melted onto chicken, raisins and cashew nuts. It is served up in a casserole dish and if you get a couple of appetizers as well should be enough for two people. Another specialty is the Aruban Appetizer Mezze which offers a selection of local tastes in small serving dishes. Finally, try the Aruban Goat stew.
For coffee and drinks afterwards (and maybe some desserts) head to the delightful Café 080. The Dutch owners of the Café are famous for their hospitality and are constantly wandering through the place checking that everyone is having a great time. They serve amazing coffee, a brilliant selection of drinks and the blackboard is always packed with a selection of Island treats for you to try, from sandwiches to pastries to desserts.
Another great bar that serves food is the Bingo Café. This is a friendly relaxed place with the emphasis on laid back, but their sandwiches are to die for. The most popular with locals and visitors alike is the Dutch Style sandwich, which is packed with pork, lettuce and a unique peanut sauce.
If its breakfast you're after, the best place to go is Linda's Dutch Pancakes. These are some of the largest pancakes you'll ever see – particularly recommended are the Dutch Meatballs pancake, the Beef Sate and Peanut Sauce pancake and of course the classic pancake with Dutch Gouda.
If you're after something a bit more refined then it is worth reserving a table at The Carte Blanche Restaurant. This is a tiny little place, serving only fifteen diners but you get truly personal service with the chef coming out to entertain you and cook your meal in front of you. An absolute must for foodies.
Finally, no visit to Aruba would be complete without dining out on the seafood. With crystal blue waters all around you Aruba is unsurprisingly a great place to dine out on seafood. A couple of the best places to go are Wacky Wahoos which serves amazing Aruban barracuda and The Marandi, a friendly thatched roof restaurant which offers almost every type of fish and seafood you can imagine.
Wherever you eat out in the evening, try and eat at sunset. There is no better feeling than sitting out in the balmy warm air with a drink while the sun goes down and then dining under the night sky, packed with stars.
About the author: Esther is a travel writer and blogger who loves to explore the world's most glamorous places. She has written a guide to Kefalonia and also blogs for Mega.
Photo credit: Josh Rosenblum