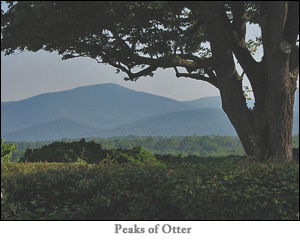 It's an interesting era in the lodging and hospitality industry. At the same time the big chains are consolidating, top quality, owner-operated bed and breakfast inns and lodges are flourishing across the country.
It shows that savvy and serious travelers still want the personalized service and unique atmosphere that only these smaller B&Bs can offer. To make our case, we'll take a look at five romantic bed & breakfast getaways along the East Coast:
1 – Sans Souci, Smith Mountain Lake's European style bed & breakfast in Huddleston, Virginia is the perfect place to start our journey.
Owners Bill and Anneliese Piatt designed this home to take full advantage of its setting, which is at the edge of Smith Mountain Lake, Smith Mountain itself and a 5,000 acre wilderness preserve. There are four waterfront golf courses, lots of fun weekend events, great hiking and more than a dozen lakefront restaurants. It gets consistently high scores from travelers looking for a romantic retreat or a chance to commune with nature.
2 – One of the adventures every American should enjoy is a drive down the Blue Ridge Parkway and along the way, a stay at Peaks of Otter Lodge near Bedford, Virginia is a must. A good time to visit is anytime you can get away, but a great time is in the fall when the trees are ablaze with color. There's an easy trail around lovely Abbot Lake along with a strenuous 1.5 mile hike to the summit of Sharp Top. This is one of those places where visitors can turn back the clock, slow down and enjoy life as well as one another's company.
3 – Myrtle Beach, South Carolina is noted for its huge resort hotels and golf courses, but there is another side, a quieter side, to the incredible vacation area and its best typified by Serendipity Inn. As one guest put it, "The location was perfect, right in the middle of everything, just a couple of blocks from the beach, but far enough away so that it was quiet and peaceful." The owners take care of all the details that make a B&B like this special and memorable, including an excellent breakfast.
4 – From the street, The Woodstocker Inn in Woodstock, Vermont is exactly how one would picture a quaint New England B&B, but inside you'll find that all the rooms have been remodeled in a way that uniquely blends the traditional with the modern. The bathrooms win rave reviews from guests. The breakfasts are fantastic, as would be expected from 2010 "Innkeepers of the Year," Dora Foschi and David Livesley.
5 – Sleepy Hollow Bed & Breakfast in Elysburg, Pennsylvania is set on 15 acres that overlook neighboring horse farms. Guests lounge on the 40 foot porch that fronts the Cape Cod house and watch wild turkeys and deer roam the property. The rooms feature furniture and quilts that give the B&B a strong country flavor. There are two golf courses within a five minute drive and for visitors who absolutely must have their hit of automobiles tailgating at excessively fast speeds, the Pocono International Raceway is an hour away.
How about you? Do you have any favorite B&Bs along the East Coast that you're willing to let us in on?
About the author: Carrie Thompson is a marketing manager for Captain's Quarters www.captainsquarters.com), one of several family-friendly Myrtle Beach resorts.  Captain's Quarters offers Shipwreck lagoon water park along with 15 other water features as well as a children's summer activity program.
Photo credit: brandonink2001