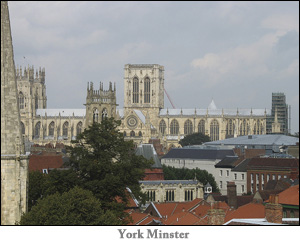 With historical monuments dating back to millennia and popular tourist sites that were built much more recently, the UK is a history lover's paradise. The UK's complex history, rich tradition of royalty and dedication to preserving the achievements of the past has enabled it to retain many historical landmarks, attracting thousands of visitors each year.
The Pride of Yorkshire
In the ancient city of York, visitors flock to York Minster. This cathedral embraces centuries of York's history, including the Roman origins that lie beneath the Minster and the medieval stained glass windows that date back some 800 years.
York Minster was an immense building project and was completed after 250 years. Tourists today enter areas such as the Chapter House with its obscure foliage carvings and the Tower, where visitors can look out over York itself.
Telford's Aqueduct
From medieval times to the Industrial Revolution, the Pontcysyllte Aqueduct and Canal is a tribute to the ingenuity and hard work of the age. You can visit their website at www.pontcysyllte-aqueduct.co.uk. Found in the northeast of Wales, the aqueduct is 11 miles (18 kilometres) long and was designed originally by Thomas Telford.
The Pontcysyllte Aqueduct is perhaps best known for its lack of locks and for the utilization of two types of iron, wrought and cast, allowing lightweight arches that have proved durable. Whilst the aqueduct is remarkable in itself, it has enabled the evolution of engineering in that its design later became an influence on other projects.
An Historic Capital
A huge draw for travelers heading to the city of Edinburgh in Scotland, Edinburgh Castle offers not only spectacular views over a splendid city but also a chance to delve into a World Heritage Site's substantial history. The rock that the castle is constructed on has been the site of fortifications for some three millennia, since the Bronze Age and a settlement has existed around it since the days of the Roman occupation of Scotland.
Edinburgh Castle then gained royal status and underwent several hundred years of expansion, siege and drama, playing host to the Scottish court and numerous kings and queens. Today, parts such as David's Tower and St. Margaret's Chapel help to tell the castle's long story.
A Place for Legends
A former monastery, Glastonbury Abbey is found in Somerset in England and like many of the UK's historical landmarks, has connections dating back thousands of years. Some believe that this place was England's first church whilst others place a mythical onus on the abbey's significance, believing that this is where the folklore hero, King Arthur is buried.
Whatever the truth, today the abbey is host to picturesque grounds and gardens, spread across 36 acres. Highlights here include more than 250 types of tree, a number of tranquil ponds, plenty of space for picnics and a cider orchard. Visitors also enjoy admiring the abbey flower displays and taking a stroll through areas such as the Badger Boardwalk, on the lookout for furry friends.
An Ancient Achievement
Another site with widely discussed origins, Stonehenge has inspired debate and awe for many years. Essentially a collection of megaliths dating back to ancient times, to the Neolithic and Bronze Ages, the stones that make up this site have as yet unconfirmed astronomical meanings, intriguing many of the travelers who come to Stonehenge to inspect the menhirs here or even to worship near them. Stonehenge is admired due to the way in which it is constructed, which continues to baffle experts today and for the types of material used to build it.
About the author: Francesca is a freelance writer with a passion for travel who hails from the UK. She enjoys writing about the UK as a great tourist destination and sharing her knowledge on all of the best places to visit.
Credits: Photo courtesy of Stephen Montgomery.