Picture of the day - June 22, 2005
Hummingbirds In Flight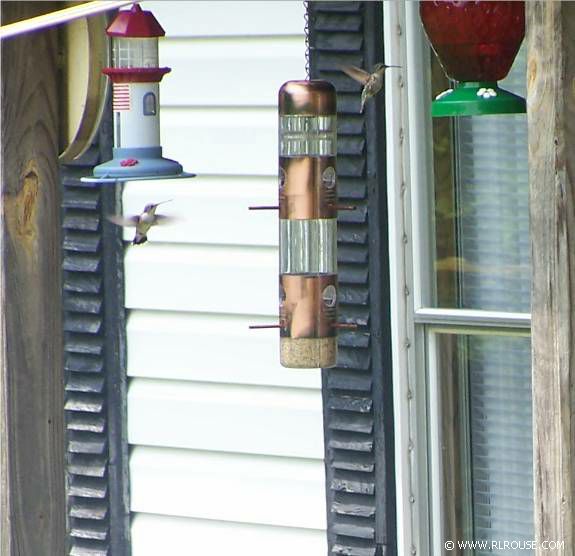 Today's picture shows a pair of hummingbirds in flight as they approach mom's hummingbird feeders. These birds are simply amazing because they can fly straight up, straight down, straight ahead, backwards, to the left, to the right... they can even hover like a helicopter!

With a beak that looks and works much like a straw, hummingbirds can draw nectar from a flower or feeder without even bothering to land - they can dine while hovering in mid-air! They typically flap their wings around 50 times a second, which makes it virtually impossible to see more of their wings than just a blur when they are in flight.




Dad always loved watching wild birds. In the last few years of his life, he spent most of his free time during the summer fishing. But he would spend the winter months feeding the cardinals and other birds and watching them eat for hours at a time through the sliding glass door. He was simply amazed that such a small creature could eat so much!

For dad, birds were among God's most beautiful creations, and hummingbirds were his favorites because of their unique flying abilities...they received his birdwatching attention in the summertime.

Mom loves birds too, and she certainly does her best to keep dad's tradition alive. Every winter, she makes sure the birdfeeders are always well-stocked with lots of tasty bird seed and suet. During the summer, she puts out the hummingbird feeders and keeps them full of the sweet nectar they love so much.

They repay her many times over with wonderful acrobatic displays of flight and mischief, playfully dueling in mid-air trying to win the right to dine at the most coveted nectar hole. Sometimes there will be as many as ten hummingbirds flittering around the feeders at one time.

I took the above photo while sitting on mom's back porch watching one of those aerial displays. There were just two of them at the time, so there was no jousting going on...just a couple of tiny hummingbirds headed for their favorite watering hole!

---
Picture Of The Day Homepage | Submit a photo